Communists suffer setback in India's West Bengal state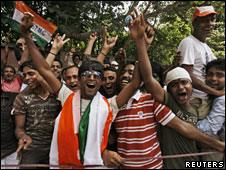 The ruling Communists in the Indian state of West Bengal have suffered a major setback in the municipal polls.
The opposition Trinamul Congress swept the polls in the capital, Calcutta, winning 95 of the 141 seats. The Communists managed to win 33 seats.
Of the remaining 80 municipalities, Trinamul won 25, while the Communists trailed with 17. In many towns there was no outright winner.
West Bengal's Communist-led coalition have been in power for 33 years.
But it now looks as if their hold on the state is increasingly being whittled away.
They suffered a setback at the general elections last year when the left coalition could only manage to win 15 of the state's 42 parliament seats. The fiercely anti-Left Trinamul won 19, the Congress won five and a smaller socialist ally won one seat.
The Congress party also did poorly in Sunday's municipal polls, picking up just 10 seats in Calcutta and seven seats in the other municipalities.
Results in 31 municipalities are hung, and the Trinamul Congress may negotiate with the Congress to come to power here, the BBC's Subir Bhaumik in Calcutta says.
Trinamul leader Mamata Banerjee has indicated that she is open to a seat-sharing agreement with the Congress in the key state elections next year.
Correspondents say the anti-incumbency factor may have finally caught up with the ruling left coalition in the state.
Related Internet Links
The BBC is not responsible for the content of external sites.