Latest British Airways strike enters its final day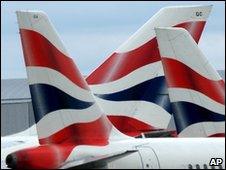 The current five-day strike by British Airways cabin crew has entered its final day, but a third wave of walkouts is due to start again from Saturday.
With no sign of a breakthrough between BA bosses and the leaders of the Unite union, the union has also threatened to ballot for more strikes in July.
The most recent talks between the two sides ended without agreement on Tuesday.
The dispute centres on pay, staffing levels and working conditions.
Unite is also demanding that BA reinstates the travel perks of striking staff, and ends disciplinary action against others.
With another five-day walkout due to start on Saturday, Unite claims it is costing BA £7m each day.
BA counters that a growing number of strikers are returning to work, and during the next walkout it plans to fly more than three-quarters of customers who booked flights.
It has also said it expects to operate all flights to South Africa ahead of the World Cup.
These departures will be part of the 80% of long-haul flights it aims to operate from Heathrow next week, up from 70% this week.
It also expects to run 60% of short-haul services from the airport, up from 55% this week.
Flights from Gatwick and London City airports will continue to be unaffected.
Related Internet Links
The BBC is not responsible for the content of external sites.