Profile: Rod Blagojevich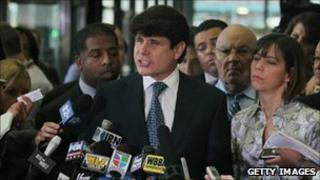 Rod Blagojevich ran for the Illinois governorship in 2002 promising an end to "business as usual".
His predecessor, Republican George Ryan, had been convicted of corruption, and Blagojevich became the state's first Democratic governor in 30 years.
But it was not to be long before he in turn became mired in corruption allegations.
His eventual conviction in June 2011 on 17 of 20 corruption charges, and subsequent sentencing to 14 years in jail, came after a long and complex legal battle.
A federal jury in Chicago found Blagojevich guilty in August 2010 of making false statements to agents, in a case built using profanity-laced FBI wiretaps.
Despite the conviction, a defiant Blagojevich declared victory.
The jury had been unable to reach a verdict on 23 other charges that were brought - most of them more serious than the ones on which he was convicted.
Speaking outside court, Blagojevich said the government had thrown "everything but the kitchen sink" at him - but could not prove he had done anything wrong "except for one nebulous charge from five years ago".
The judge said he intended to declare a mistrial on the undecided counts and prosecutors vowed to start a retrial "as quickly as possible".
That retrial eventually saw a jury of 11 women and one man deliberate for seven days before handing down a damning verdict, that left the former governor - in his own words - "stunned".
The verdict was the culmination of a tumultuous two and a half years.
In January 2009, Blagojevich was removed from office, after being unanimously convicted of abusing his powers in a vote in the Illinois state senate.
A month earlier, the governor had been arrested by federal agents and charged with attempting to "sell" then President-elect Barack Obama's vacant US Senate seat in return for a lucrative position for himself with a non-profit organisation.
Humble origins
Blagojevich rose from humble origins to become the most powerful office-holder in Illinois.
The son of a Serbian immigrant steelworker, as a child he cleaned shoes and delivered pizzas to bring in money for his family.
He worked as a dishwasher on the Trans-Alaska Pipeline to help pay for his college tuition at Chicago's Northwestern University.
After graduating from Pepperdine University Law School in 1983, he worked as a clerk for Chicago Alderman Edward Vrdolyak, before joining Chicago Mayor Richard Daley's legal team as Cook County Assistant State Attorney.
In 1992 he entered politics as a member of the Illinois House of Representatives, making the leap to Washington in 1996 when he won a seat in the US House of Representatives to represent Illinois's Fifth Congressional District.
That seat had been held by Democrat Daniel Rostenkowski until 1994, when he was convicted of mail fraud.
Blagojevich easily beat the Republican who had taken over after Rostenkowski's political demise.
He then used his new position to build his profile, ahead of a run for the state governorship, which he embarked on in 2002.
'New low'
Scandal surrounded the former governor during his first term.
Eyebrows were raised in 2005 when contracts for fast food franchises at the Illinois Tollway oasis were given to Blagojevich campaign donors.
And in 2006 it emerged that Blagojevich had received $1,500 (£1,023) from a personal friend, shortly after the friend's wife had been given a job at the Illinois Department of Natural Resources.
Blagojevich also faced questions about his ties to convicted tycoon Tony Rezko.
Mr Rezko - who came to prominence during the 2008 presidential election because of his links to Mr Obama - was a key fundraiser for Blagojevich, and the governor appointed him to a number of boards in the city with power over construction permits and the Chicago teachers' pension fund.
He used his position on the boards to extort money from businesses that wanted to win construction contracts and grants from the pension fund.
During the trial, Blagojevich was identified as "Public Official A" who featured in court documents as a beneficiary of the scheme.
Despite the allegations swirling around him, Blagojevich won re-election on 7 November 2006.
But US Attorney Patrick Fitzgerald, known for his involvement in the prosecution of White House aide Lewis "Scooter" Libby, had been investigating Blagojevich since 2006.
In December 2008, federal agents pounced.
Shortly after his arrest, officials released transcripts of intercepted phone conversations in which Blagojevich appeared to be discussing his desire to trade Mr Obama's Senate seat in return for campaign contributions or well-paid positions in a non-profit organisation.
These conversations were then played during his two-month trial.
Mr Fitzgerald described Blagojevich's actions as "a corruption crime spree", and said that the governor had made other hiring decisions based on the willingness of appointees to contribute campaign funds.
He was also accused of illegally threatening to block financial assistance to the company that owns the Chicago Tribune newspaper.
Prosecutors claimed the former governor demanded that the company fire members of the newspaper's editorial board who were critics of his governorship.
'Superstar'
Since leaving office, Blagojevich has stayed in the spotlight.
In 2009, he attempted to become a contestant on the reality TV show I'm a Celebrity... Get Me out of Here!
But the show was taped in Costa Rica and a judge denied his request to leave the country. Blagojevich's wife Patti took his place.
Earlier this year, Blagojevich was a contestant on The Celebrity Apprentice. He was eliminated by the show's host, Donald Trump, who fired him after the fourth episode.
Blagojevich also made an appearance on stage in the musical spoof, Rod Blagojevich Superstar. The appearance raised money for charity.