Ex-Met boss Sir Ian Blair 'regrets' Menezes shooting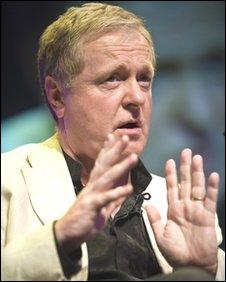 Former Metropolitan Police Commissioner has said the shooting of innocent Brazilian Jean Charles de Menezes in south London "remains with me".
At the Hay Festival of Literature in Mid Wales Sir Ian Blair said he "regrets" and was "accountable" for the shooting, but he was "not responsible".
Mr de Menezes was mistaken for a suicide bomber and killed at Stockwell Tube station in July 2005.
His family said elevating Sir Ian to the House of Lords was a "final slap".
The former head of the Met, who left the force in December 2008 citing differences with London Mayor Boris Johnson, was given a life peerage at the Dissolution Honours last week.
Speaking about the criticism of the peerage Sir Ian said: "First of all, there is a terrible amount of pain in the de Menezes family and I cannot imagine what that feels like.
"I have always said that I am now and always was accountable for the death of Mr de Menezes. What I have also said was that I was not responsible for it."
He added that "the death of that man remains with me. All of us regret it."
He also described the "unprecedented hunt" days after the London bombings which led to the innocent man being mistaken for a suicide bomber.
Sir Ian said police had made the "worst error of all" by failing to make it known publicly when the error was found.
He added that attempts to block a later Independent Police Complaints Commission investigation was "an error".
The Met was found guilty of breaching health and safety laws but no individual officer faced charges over the death.
Related Internet Links
The BBC is not responsible for the content of external sites.