Nine die in clashes between Colombian rebel groups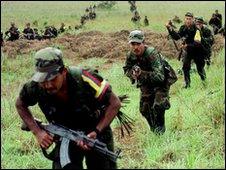 The security forces in Colombia say at least nine people have died in clashes between two left-wing rebel groups.
he police commander of Arauca province, William Guevara, said the nine belonged to the National Liberation Army (ELN).
He said they were killed by members of Colombia's main rebel group, the Farc, as part of a dispute over control of an important drug route to Venezuela.
Last year, the groups announced they would unite to fight the country's security forces.
The announcement in December, saying that they were on their "way towards working for unity" surprised analysts, who pointed to the deep ideological differences between them.
Both have their roots in Marxism, but the ELN is regarded as being more political than the Farc.
Founded in 1965, the ELN takes its inspiration from the Cuban revolution and liberation theology.
Until 1998, its then leader forbade his troops to have anything to do with the drugs trade on ideological grounds.
But with a waning number of members, down from its 1999 high of 4,000 to an estimated 1,500, its members are believed to be forging closer links with drug-traffickers to finance their war against the Colombian state.
The Colombian military says these latest clashes are likely to be part of a turf war over the lucrative drug routes to neighbouring Venezuela.
The confrontation is believed to have started on Sunday, with bodies found dumped in different locations of the north-eastern province.
Clashes between the Farc and the ELN have been intensifying since the beginning of the year.
In January, the Colombian military made public a recording of what it said was the local Farc leader demanding that his troops kill all ELN members in the area.
The military says German Briceno, alias Grannobles, told his fighters that they were engaged in a fight to the last against the ELN.
Related Internet Links
The BBC is not responsible for the content of external sites.