Accused 'hopes' missing Allison McGarrigle is alive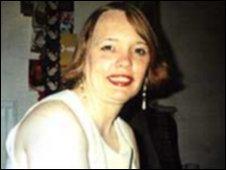 A man accused of helping to kill a woman and dumping her body at sea has said he "likes to think she is still alive".
William Lauchlan told the High Court in Glasgow that he "hoped" Allison McGarrigle was not dead.
Mr Lauchlan, 33, and Charles O'Neill, 47, are charged with murdering Mrs McGarrigle in June 1997 to stop her reporting the abuse of a young boy.
They are also accused of putting her body in a bin and dropping it in water.
Mrs McGarrigle was reported missing in February 1998. Her body has never been recovered and she was declared dead in 2005.
Giving evidence on Wednesday, Mr Lauchlan said the last he saw Mrs McGarrigle was when she went to bed at the flat in Largs, Ayrshire, where she was staying with both accused and a young boy.
Prosecutor Dorothy Bain QC asked: "You are suggesting that she might be alive?"
Mr Lauchlan replied: "I like to think so, but I have no idea."
Miss Bain then claimed that it made "no sense" Mrs McGarrigle would run off. She said the lack of any contact since made it "perfectly plain" she was dead.
Lauchlan replied: "I would certainly hope not, but certainly after this time, who knows?"
Earlier, Mr Lauchlan told the court how he and Mr O'Neill had been a couple who had known each other for many years.
He also agreed how a relationship developed between him and a young boy who he and O'Neill are said to have "engaged in criminal sexual activity with".
Under questioning Lauchlan denied that Mrs McGarrigle knew what was going on with the boy and said there was "no reason" to silence her.
He also denied claims made earlier in the trial that there had been talk about "getting rid" of Mrs McGarrigle or "chopping her up".
He also said he did not hear a conversation about the woman being "fed to the fishes".
Mr Lauchlan and Mr O'Neill deny murder and attempting to defeat the ends of justice.
Mr O'Neill has lodged a special defence incriminating Mrs McGarrigle's husband Robert as being responsible for her death.
A charge that Mr O'Neill assaulted another woman, Elaine Mullan, or an alternative allegation of culpable and reckless conduct was withdrawn by prosecutors.
The trial, before Judge Lord Pentland, continues
Related Internet Links
The BBC is not responsible for the content of external sites.