City builder finds time capsule in Edinburgh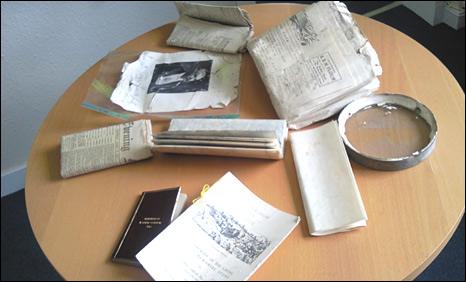 A time capsule dating back almost a century has been unearthed by a construction worker on a building site in Edinburgh, it has emerged.
The recent discovery came as a building was about to be demolished to make way for the new Royal Victoria Building at the Western General Hospital.
A glass jar was found, containing newspapers, maps and pictures.
It was sealed 97 years ago, in 1913, to mark the creation of a children's home for Craigleith Hospital and Poorhouse.
The worker on the site first noticed papers sticking out of a large piece of brickwork and alerted his foreman.
The sealed jar was discovered inside the large stone, dating back to the Craigleith Hospital and Poorhouse, which went on to become the site of the modern-day Western General Hospital.
The children's home was built next to the main building for just £7,180.
Alistair Johnston, project leader of developers Laing O'Rourke, said: "We are all really excited. The guys were working as normal when one of them noticed papers sticking out of the stone. They started to investigate and realised what they had found.
"It was a large glass bottle filled with lots of old newspapers, maps and pictures.
"We picked it out of the earth and the rubble while trying to keep it as intact as possible. But we knew straight away it was really old."
Laura Brouard, assistant archivist at Lothian Health Services Archive, said: "Surprisingly, given the length of time that it has been buried, the capsule's contents are extremely well-preserved.
"They provide a fascinating insight into the origins of the Children's Home at Craigleith Poorhouse, later part of the Western General Hospital."
The children's hospital was requisitioned by the Army in 1914 to treat casualties from World War I.
In 1929, parish councils were abolished and ownership of the poorhouse and hospital was transferred to Edinburgh Town Council in 1930.
The council upgraded the facilities and equipped Craigleith as a teaching hospital with 280 beds, with the new name of the Western General.
The children's home became known as the Paderewski Building.
A ceremony was held to mark the occasion and the capsule inserted into a memorial stone.
The stone was then used to form the fabric of the building.
Copies of three different newspapers were then slid inside the bottle, along with a signed diary and a copy of the ceremony's order of service, which included speeches and hymns.
A map of Edinburgh and minutes from a meeting granting planning permission were also sealed inside.
The collection will now be added into the health archive and the replicas are set to be put on display in the new Royal Victoria Building when it is complete in 2012.
Related Internet Links
The BBC is not responsible for the content of external sites.