Oil from Gulf of Mexico spill 'nears Florida beaches'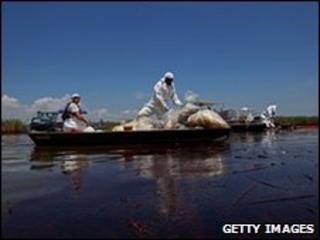 A sheen of oil from the Gulf of Mexico spill is nearing the white sand beaches of north-west Florida, officials say.
The slick, containing thousands of tar balls, is only nine miles (15km) from Pensacola on the Florida "panhandle".
"It's inevitable that we will see it on the beaches," said Keith Wilkins, an Escambia County official.
Meanwhile, BP's efforts to cap the leaking well got back on track as a saw that had become stuck in a thick pipe on the sea bed for hours was freed.
The company is attempting to contain the spill from the well by cutting off the fractured pipe and sealing it with a cap.
Coast Guard Admiral Thad Allen said crews were shooting chemical dispersants at the oil now leaking out of the new cut.
Barriers approved
Forecasters suggest the oil spill may reach Florida's shores as soon as Friday.
Workers have been rushing to place more booms along the threatened coastline in an effort to protect its beaches and wildlife.
Florida Governor Charlie Crist said the oil sheen observed off the state's north-west coast contained thousands of tar balls, heavy globs of decayed oil.
"The goal is to remove that oil from near shore waters and prevent or minimise any potential impacts on our state," he told reporters.
In Louisiana, the worst-affected state, Governor Bobby Jindal told a news conference that the White House had approved the construction of five sand barriers, or berms, off its coastline - and had ordered BP to pay for the work.
Mr Jindal has strongly criticised the Obama administration and BP over the past few days for being too slow to respond to the crisis.
"Every day they wait, every day they make us wait, we're losing our battle to protect our coast," he said.
Oil debris has also reached Alabama's Dauphin Island and parts of the Mississippi shoreline.
BP estimates that the disaster has so far cost the company approximately $990m (£674m) in clean-up costs, but has refused to speculate on future expenses.
BP shares have fallen by more than a third since the spill. News that the US justice department has opened several civil and criminal inquiries into the Gulf spill caused futher falls on Wednesday morning.
'Dangerous short-cuts'
The BBC's North America editor Mark Mardell says there is a growing sense of frustration that all BP's efforts have come to naught, and things could get worse for the company.
In a speech in Pennsylvania on Wednesday, President Barack Obama said that the leak "may prove to be a result of human error, or of corporations taking dangerous shortcuts to compromise safety".
He went on: "We have to acknowledge that there are inherent risks to drilling four miles beneath the surface of the Earth.
"These are risks that are bound to increase the harder oil extraction becomes."
Mr Obama urged Congress to pass legislation to overhaul US energy policy and end tax breaks for oil companies, saying he would seek Republican as well as Democratic support for reform.
"I will continue to make the case for a clean energy future wherever and whenever I can," he said. "I will work with anyone to get this done."
The oil began leaking into the Gulf of Mexico on 20 April when the Deepwater Horizon drilling rig, leased to BP, exploded, killing 11 workers.
BP is drilling two relief wells to permanently stop the leak but they are not expected to be completed until August.
A "top kill" procedure, which had been considered the best hope for plugging the leak, failed over the weekend when engineers were unable to pump enough heavy mud into the well to staunch the oil flow.