Concern over prostate cancer treatment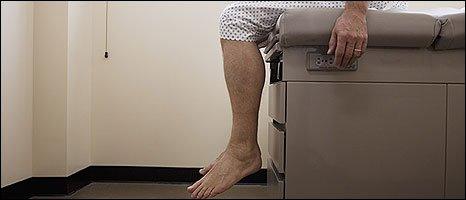 A leading cancer specialist in Northern Ireland has said some people who have prostate cancer would be better off not being diagnosed.
Dr Anna Gavin, of the NI Cancer Registry, said for some older patients with lower-risk cancers the effects of treatment can be more severe than the disease itself.
A report by the registry published on Wednesday found the number of patients being treated for prostate cancer in NI doubled between 1996 and 2006.
It found that one of the reasons for this was the increased use of diagnostic tests such as PSA.
However, Dr Gavin, one of the report's authors, said there was concern about "over-diagnosis" of prostate cancer in the population.
"Many people who are diagnosed with prostate cancer live to a very old age and die of other things," she said.
"There is quite a debate now about prostate cancer and whether people should have it detected, because when it is detected you're on a path where you have to be treated and some of the treatments are actually quite severe in terms of their consequences."
Dr Joe O'Sullivan, consultant and senior lecturer in clinical oncology at the NI cancer centre, said doctors were careful not to give unnecessary treatment.
"Over-diagnosis is only really a problem if there is over-treatment," he said.
"There's no doubt that some prostrate cancers, it might be better if they were never diagnosed in that men who are diagnosed with some of the low-risk cancers it may never affect them in their life.
"But once you've been diagnosed with it, the key element is not to treat somebody who doesn't need treatment."
Dr O'Sullivan said protocols were in place to try and ensure this.
"There's a really strong programme put together called active surveillance which addresses this issue," he said.
Prostate cancer is the most common form of the disease in men in the UK, accounting for nearly a quarter (24%) of all new male cancer diagnoses.
Its risk is strongly related to age - very few cases are registered in men under 50 and about three-quarters of cases occur in men over 65 years. The largest number of cases is diagnosed in those aged 70-74.
While more men die with prostate cancer than directly from it, Dr O'Sullivan said it should still be regarding as a very serious disease.
"It is a serious condition and many families will have been bereaved by prostrate cancer," he said.
"It does often require quite tough treatment."
Liz Atkinson, of the Ulster Cancer Foundation, said men should go to their GP and get all the information they can before getting a PSA test for prostate cancer.
"It is a test that picks up some prostate cancers that don't need treatment and it can set them off on this path of treatment that they may not necessarily always need.
"Some people going for the test really do need to get all the information about it so that they can make an informed choice about whether they want to proceed, knowing what it's going to lead to."
Side-effects from treatment can include incontinence problems and impotence.
Mrs Atkinson said the active surveillance programme had been a good addition to cancer services.
"They don't always jump in immediately, especially for older men," she said.
"They really do try not to treat if it's not going to be needed.
"That's where this active surveillance comes in, where it's really like a close monitoring so that they're not treating before they really need to."
She urged anyone with concerns about prostate cancer to call the UCF helpline on 0800 783339.