South Africa removes Shaka Zulu statue from airport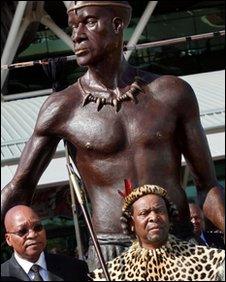 A statue of Shaka Zulu has been removed from the new airport in South Africa's port city of Durban after complaints about the warrior king's portrayal.
In it he is unarmed and surrounded by cattle, but some think the king should have a spear, shield and wild animals.
The current Zulu King Goodwill Zwelithini has also questioned the statue's airport location, reports say.
Once an agreement has been reached on a new design, the statue will be put back up, officials say.
Cyril Madlala, head of KwaZulu-Natal's provincial communications, told the BBC News website that a team of academics, historians and members of the Zulu's royal household will debate Shaka's new look and a revised statue will be unveiled in "about a month".
"We [the provincial government] welcome this debate about how Shaka looked, 182 years after his death," he says.
The new King Shaka International Airport was officially opened last month ahead of the World Cup which kicks off on 11 June.
King Shaka - who founded the Zulu kingdom and was famous for his military tactics - is traditionally depicted bearing arms.
"But he [Shaka] also loved nature and would have had free time. He would not always be carrying his spear and shield," Mr Madlala suggests.
However, a report in South Africa's Mercury newspaper pointed out that for some people, an unarmed Shaka symbolised surrender.
The paper also mentions that since King Shaka was a keen hunter, some believe it would have been better if he had been surrounded by wild animals rather than cattle.
"Shaka is surrounded by Nguni cattle, which are quite dear to the Zulu people," Mr Madlala explains.
Goodwill Zwelithini attended the opening of Durban's new King Shaka International Airport earlier this month, at which time he saw the King Shaka statue.
The Mercury says that he approved of the cattle surrounding Shaka, but thought the airport was not the right location for the statue.
South African sculptor Andries Botha designed the statue.
Mr Madlala says there is no problem with the quality of Mr Botha's work.
"No-one knows what Shaka looked like and he [Botha] was only giving his interpretation."
Related Internet Links
The BBC is not responsible for the content of external sites.