Cambodia upholds opposition MP defamation case
By Guy Delauney
BBC News, Phnom Penh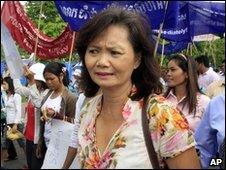 Cambodia's highest court has upheld a ruling that a leading opposition figure defamed the prime minister.
Prime Minister Hun Sen had sued Mu Sochua for defamation after she accused him of making derogatory remarks about her.
The former women's minister has refused to pay the $4,000 (£2,725) fine and says she is willing to go to jail.
Mu Sochua, the current MP for Kampot, called the ruling "a travesty of justice".
She had no defence counsel in court as her lawyer quit the case and joined the governing party after Cambodia's bar council accused him of malpractice.
The courts dismissed her complaint and the national assembly voted to lift her parliamentary immunity from prosecution so the prime minister's case could go ahead.
The ruling came as Cambodia's international donors met government officials to discuss their aid pledges for the coming year.
Local human rights groups have described freedom of expression in Cambodia as in a "perilous state".
A coalition of pressure groups has asked donors to link their payments to Cambodia's progress on human rights issues.
Related Internet Links
The BBC is not responsible for the content of external sites.