Public urged to inform on 'lavish' criminal lifestyles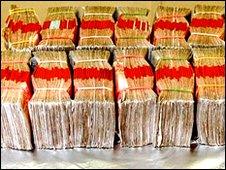 More than £5.5m of criminal assets have been recovered in Scotland in the past year, figures have revealed.
The news comes as the Scottish government announced plans to make it easier for people to inform on criminals living "lavish lifestyles".
Justice Minister Kenny MacAskill said he wanted to hit the "status and wallets" of gangsters in Scotland.
Funds are seized under proceeds of crime legislation and then used to pay for community initiatives.
Mr MacAskill announced several initiatives to tackle crime like drug dealing, fraud and money laundering in the coming year.
These include a campaign to encourage the public with information about serious crime to call the anonymous Crimestoppers hotline.
Eighty new staff will be recruited to the Scottish Crime and Drug Enforcement Agency (SCDEA) and investigations into the top 20 "most harmful" organised crime groups in Scotland will be carried out.
Mr MacAskill said he would also open negotiations with the new UK home secretary to devolve responsibility for the proceeds of drug trafficking to Scotland.
The justice minister was speaking in Dundee, where the first progress report on a national strategy to tackle organised crime was published.
He said: "Serious organised crime affects us all. It brings violence and intimidation to our communities - from people who don't care what they peddle or who it costs as long as it brings them profit and power.
"I know that decent people are sick of seeing these gangsters speed around their streets in flash cars, living the kind of lifestyle they could only dream about.
"People who don't seem to be forced to tighten their belts in the way that others are having to do at the moment."
Mr MacAskill said people reporting suspicions about an individual's lifestyle or activity could be the "key that unlocks the door to disrupting an entire criminal empire".
He added: "We have made significant progress in recent times - but with the help of decent people choosing to do the right thing, we can beat those who bring misery to our communities and make Scotland a safer, stronger place."
The minister also heard how Tayside Police had responded to the drive to tackle serious organised crime.
The force's chief constable, Justine Curran, said: "We will continue to work with and support our colleagues in the SCDEA to destroy those groups and individuals whose pursuit of profit and power threatens public safety.
"Tayside Police, along with every other Scottish police force, is determined to tackle serious and organised crime."
The separate announcement about money seized in the past year using the proceeds of crime act was made by the Lord Advocate, the Right Honourable Elish Angiolini QC.
The total amount secured from 1 April 2009 to 31 March 2010 was £5,510,557.77.
The Lord Advocate said the message to criminals was "clear".
"These figures should be a warning that even if they have escaped justice to date, that we will be relentless in pursuing the fruits of their criminal activity - even beyond the grave," she said.
Related Internet Links
The BBC is not responsible for the content of external sites.