Plymouth retail recycling scheme to ease landfill load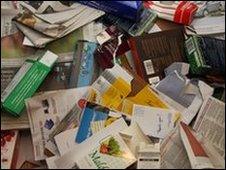 A recycling scheme which has been introduced in Plymouth is expected to divert up to six tonnes of waste from landfills each week.
The initiative will see paper and cardboard waste collected each week from retailers in the city's business improvement district.
The service is being offered free of charge by Plymouth City Centre Company as part of a five-year business plan.
More than 70 retailers have already signed up for the scheme.
Clint Jones, Plymouth city centre manager, said: "Our new recycling scheme for retailers will help both financially and environmentally.
"Firstly it will help reduce business costs by diverting paper and card away from the commercial waste collection they pay for, making collection of residual waste cheaper.
"Secondly, it will help reduce their environmental impact by ensuring as much retail waste as possible is recycled.
"This really is a win-win for everyone involved and I'm delighted so many retailers have signed up so early on in the scheme."
Related Internet Links
The BBC is not responsible for the content of external sites.