Three acquitted at Raytheon trial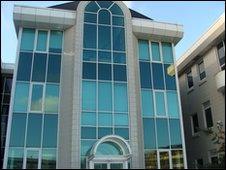 Three men on trial at Belfast Crown Court, charged in connection with a protest at an arms manufacturer in Londonderry, are to be acquitted.
On Tuesday, the court heard there was not enough evidence to convict Rory McDermott, 26, John McMonagle, 65, and Bernard McFadden, 56, all from Derry.
Judge Tom Burgess told the jury he would be directing them to acquit the men of the charges they faced.
Fourteen people are on trial after the protest at Raytheon in January 2009.
The women on trial are 35-year-old Julia Torrojo from Glenside Gardens, Roisin Barton, 61, from Brandywell Avenue, 54-year-old Goretti Horgan from Westland Avenue, Elizabeth Doherty, 52, from the Little Diamond, 65-year-old Diana King from Hatmore Park, 61-year-old Helen Reynolds from Fahan Street and Roisin Bryce, 42, from Ardnomoyle Park, all in Derry.
Two women from the Irish Republic are also on trial - 35-year-old Sharron Meenan from Dameragh, Fahan, and 52-year-old Jackie McKenna from Sliabhan, Killarogue.
All nine women deny a charge of burglary with intent to cause criminal damage.
The court was told that after they were arrested and released, each of the women attended voluntarily to be interviewed by police, adding that during police questioning, all of them admitted to breaking into Raytheon in order to cause damage to the main computer server.
The women claimed they had done so in order to protect the lives and property of people in the Gaza Strip and to stop alleged war crimes being committed by the Israeli forces.
The two other men on trail are James King, 67, from Hatmore Park, who denies causing criminal damage to a wall and possessing a can of spray paint to cause criminal damage and Kieran Gallagher, 44, from Dunservick Park, who is charged with impersonating a police officer.