Family wait for news on Hackney woman in Israeli jail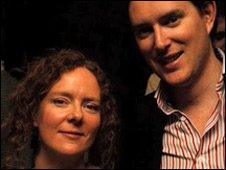 The brother of a woman who was in the aid flotilla attacked by Israeli commandos has said he fears for his sister's safety.
Alexandra Lort-Phillips, from Hackney, east London, is in a prison in the southern Israeli city of Be'er Shevawas.
Her brother Charlie said he was awaiting news of her return.
Israel has started deporting hundreds of foreign activists, who were arrested on the flotilla ships.
Officials said they hoped to remove all the activists from the country by Friday.
The flotilla, carrying 10,000 tonnes of aid, left the coast of Cyprus on Sunday and was due to arrive in Gaza on Monday, when it was attacked.
Nine people died when commandos boarded the ship.
Mr Lort-Phillips said he had only learned of his sister's whereabouts on Tuesday afternoon.
"It was quite a long wait to hear the news she was actually in Be'er Sheva prison," he said.
"I found out on Facebook, but I appreciated they had a difficult task to find out where everyone was so I'm not criticising the Foreign Office.
"We are just waiting to hear when she will be back."
The trip was the aid worker's second journey to Gaza and she had been inspired to join the convoy after visiting the area in January.
"My sister is someone who is passionate about doing something to right something that is a wrong.
"It is not something we have always agreed with."
He admitted her work worried him.
"I fear for her safety... the papers and the Israelis have been saying there was a lot of extremists and terrorists.
"She is not the kind of person who would encourage carrying knives and guns, the way I describe her would be a humanitarian."
The British Embassy in Israel has told Mr Lort-Phillips they have been in contact with his sister and she is safe.
Londoners believed to be among the 40 British nationals taking part in the aid flotilla are: Kevin Ovenden, from Newham, east London; Nicola Enchmarch, from Wimbledon, south west London; Nader Daher, from Hendon, north London; Alexandra Lort-Phillips, 38, from Hackney, east London; Sarah Colbourne, from Hackney, east London; Ashan Shamrak, from north London; Hassan Ghani, from north London; Nur Choudhary, from Tower Hamlets, east London and Tauqir Sharif, from Chingford, east London.
Related Internet Links
The BBC is not responsible for the content of external sites.