The Hurt Locker producers to sue illegal file-sharers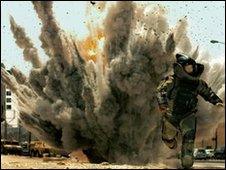 Voltage Pictures, the company behind Oscar-winning film The Hurt Locker, has filed lawsuits against alleged illegal file-sharers of the movie in the US.
Internet Service Providers have identified 5,000 net connections which have been involved in sharing the film via peer-to-peer networks.
Voltage Pictures will now seek the names of the owners from the ISPs.
The company said that piracy is "directly contributing" to a decline in the film industry.
"With new technology making it easier to commit piracy, we believe it is more important than ever for people to continue to act responsibly in order to protect jobs and our industry's survival," said a statement.
"Piracy hurts each and every hard-working person attempting to support his or her family through a career in the entertainment industry."
Voltage Pictures made $150 million (£102m) through film sales and acquisitions within the last three years according to its website.
Peter Sunde Kolmisoppi, one of the original founders of controversial file-sharing site The Pirate Bay, told BBC News he was not impressed by the action.
"We're seeing that file-sharing increases revenue as well as interest of the value of movies, tv-series, music and more," he said.
"Suing people for being fans is just quite stupid."
Related Internet Links
The BBC is not responsible for the content of external sites.