Japanese PM Yukio Hatoyama resigns amid Okinawa row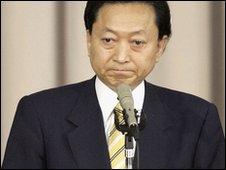 Japanese Prime Minister Yukio Hatoyama has announced his resignation after just eight months in office.
It comes after he broke an election pledge to move an unpopular US military base away from the island of Okinawa.
Mr Hatoyama's Democratic Party of Japan (DPJ) is struggling to revive its chances in an election due in July.
He said he had also asked DPJ Secretary General Ichiro Ozawa, who has been embroiled in a funding scandal, to step down to "revitalise" the party.
The centre-left DPJ's election landslide last year ended half a century of conservative rule in Japan.
Mr Hatoyama, 63, was Japan's fourth prime minister in four years. He will remain in office until a the DPJ meets on Friday to appoint a new leader who will almost certainly become prime minister.
Finance Minister and Deputy Prime Minister Naoto Kan, widely considered a potential winner, has already declared his intention to run for the post.
Until Tuesday night, Mr Hatoyama had insisted he would stay on while intermittently holding talks with key members of his party.
But he announced his resignation at a special meeting of DPJ lawmakers on Wednesday, telling them the government's work had "not reflected the public's wishes".
"I apologise to all of you lawmakers here for causing enormous trouble," he said.
Announcing his decision to the country in an emotional televised address, he said he had "tried to change politics in which the people of Japan would be the main actors" but had not succeeded.
"That's mainly because of my failings," he said.
Mr Hatoyama also cited funding scandals involving government aides as a reason for his departure and for his request that Mr Ozawa step down.
Two of Mr Ozawa's aides have received suspended prison sentences for falsifying reports on political contributions while Mr Ozawa himself - known as the "Shadow Shogun" for his power behind the scenes - has also been questioned.
Mr Hatoyama said he had asked Mr Ozawa to resign to enable "a fresh and clean DPJ" to emerge.
"Our politics must break with money," said Mr Hatoyama. "We must become completely clean in order to revitalise our party."
Mr Hatoyama had been under pressure to quit since last week when it was confirmed that the deeply unpopular Futenma US base would be staying on the southern island of Okinawa.
Okinawa is home to more than half of the 47,000 American troops based in Japan.
Many islanders resent the high military presence and have been angered by incidents involving US troops stationed there, including the rape of a 12-year-old Japanese girl in 1995.
For months Mr Hatoyama had searched fruitlessly for an alternative location to fulfil a pledge to move the base off the island or even out of Japan altogether, our correspondent says.
When he failed his governing coalition split - a coalition member was fired from the cabinet for refusing to back the decision.
The DPJ's next leader will have to take the party into mid-term elections to the upper house of parliament expected next month.
As well as Mr Kan, Foreign Minister Katsuya Okada and Transport Minister Seiji Maehara are also seen as contenders.
Okinawa is the focal point of the security treaty between the US and Japan which has balanced military power in north-east Asia since World War II.
Under the pact, Japan - which is prevented from maintaining a war-ready army by its constitution - subsidises the US military presence while the US guarantees Japan's security.