India sets conditions for peace talks with Maoists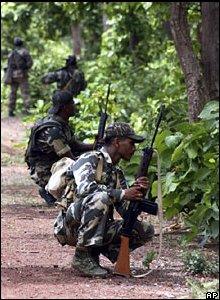 Indian Home Minister P Chidambaram has set out a "detailed road map" to initiate peace talks with Maoist rebels.
The proposals are in a letter sent by the minister to a special envoy negotiating with the Maoists.
The rebels were blamed for a train crash on Friday which killed 148 people.
A Maoist spokesman, speaking to the BBC, gave a cautious welcome to Mr Chidambaram's initiative.
Prime Minister Manmohan Singh has described the Maoist insurgency as India's biggest internal security challenge.
Mr Chidambaram's letter - a copy of which has been seen by the BBC - says that in order for the government to initiate a peace process with the Maoists, they must stop violent activities for 72 hours after which time the security forces will "not conduct any operations" against them.
It says that the central government will then consult the "chief ministers of the affected states" to invite the Maoists to hold peace talks.
It says that this process will be initiated once the Maoists announce a date for the ceasefire and "abjure violence".
At a press conference on Monday, Mr Chidambaram expressed hope that the Maoists would respond to his call for a "structured dialogue" and continue to maintain a "non-violent" position until the talks were concluded.
His special envoy, Swami Agnivesh, has had six rounds of talks with GN Saibaba, a Delhi-based Maoist ideologue, over the last month.
Mr Saibaba told the BBC's Suvojit Bagchi in Delhi that the proposed road map has "two positive elements".
"The home minister's assurances to stop the military offensive in case of a mutual ceasefire are a welcome move," he said.
"There is a possibility with this kind of an initiative to move towards a comprehensive ceasefire, so on behalf of the party I welcome the ministry's move."
Earlier on Tuesday, a Maoist leader said the rebels took "full responsibility" for the safety of trains travelling through areas under their control.
Police say that the rebels sabotaged a railway line and caused the derailment of the Calcutta-Mumbai express in West Bengal.
The Maoists denied the charge, but a spokesman, Comrade Akaash, said they would investigate whether any rebels were involved.
Railway officials in eastern India have cancelled night trains in Maoist-affected areas after Friday's incident.
Related Internet Links
The BBC is not responsible for the content of external sites.