Cancun mayor Gregorio Sanchez faces drugs charges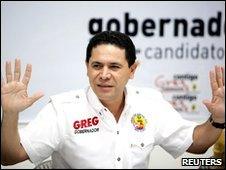 The mayor of the Mexican resort city of Cancun, Gregorio Sanchez Martinez, has been formally charged with drug-trafficking, money laundering and organised crime.
The charges mean he must give up his campaign to be governor of the state of Quintana Roo.
Prosecutors say there is evidence he protected two of Mexico's biggest drugs gangs and lived well beyond his means.
Mr Sanchez's party, the PRD, says the charges are politically motivated.
His supporters protested in Cancun after he was arrested a week ago.
Prosecutors say they have submitted documents and testimony indicating that he has ties to the Beltran Leyva and Zetas drugs gangs.
They say they have evidence he made bank withdrawals amounting to £1.3m ($2m), far more than his declared income.
But his party says he has a real estate business that explains his wealth.
Corruption scandals are nothing new in Cancun, Mexico's most popular beach resort.
A former governor of Quintana Roo, Mario Villanueva, was extradited to the United States on drugs charges last month, and Mr Sanchez's police chief was arrested last year.
The run up to elections in 10 Mexican states on 4 July has already been marred by violence and threats against candidates.
This has fuelled fears that Mexico's drugs cartels are increasingly using bribes and intimidation to infiltrate the political system.