Lost Penistone dog in nine mile trek home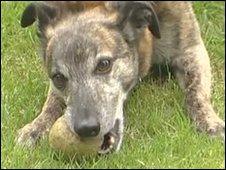 A lost dog has found its way home after a trek taking in the M1 and several main roads.
Six-year-old Jack disappeared on Sunday afternoon during a walk with his owners in Dearne Valley Park, Barnsley.
He turned up uninjured on the doorstep of the family home nine miles (14km) away in Penistone 31 hours later.
Jack's owner David Cooper told BBC News: "We thought for one moment he was a gonner but fortunately his little legs made it home, to my great relief."
Mr Cooper said Jack would have had to cross the M1, the A628, the A637, the A638 and the A629 to get home.
He said: "The ironic thing is that he doesn't like roads and he doesn't like cars. He was a stray when he was a pup, that's how we acquired him, he was knocked down by a vehicle and he became ours following that so he's very wary of vehicles."
Mr Cooper's wife Liz, a vet, said: "I have heard stories [similar to this] but this is the first time there's been anything first hand and I never really believed that he would come home, although we always hoped that he might."
The couple's son teenage Robert said: "We were lost for words when he turned up, he's always been one to walk long distances but this is something different."
Related Internet Links
The BBC is not responsible for the content of external sites.