Proposal for commissioner for standards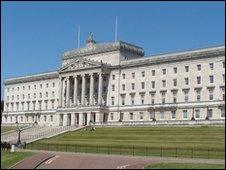 The Stormont Standards Committee has proposed that the Assembly should appoint its own Commissioner for Standards.
The role would be to investigate complaints against MLAs.
Until now, the job has been performed on a part-time interim basis by the Northern Ireland Ombudsman Tom Frawley.
The committee suggests the new commissioner should start work soon after the next Assembly election which is due in May of next year.
It also suggests they should serve for one five year term.
The committee recommends that the commissioner should be able to initiate his or her own investigations.
The Stormont Committee has not adopted a proposal made by the chair of the London Committee on Standards Sir Christopher Kelly that they could improve public confidence in their independence by appointing two lay members to sit on inquiries into MLAs' conduct.
This would follow the example of their Welsh equivalent and is also the policy being adopted by the House of Commons.
The committee says it recognises the potential advantages of such appointments but wants to further explore the practicalities before taking a final decision.