Protest over Cardiff school at eisteddfod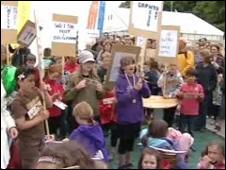 Parents have held a protest at the Urdd Eisteddfod over a decision to reject a school reorganisation in Cardiff.
First Minister Carwyn Jones blocked Cardiff council plans to shut an English-medium primary and replace it with a Welsh-medium one.
About 200 supporters of Ysgol Gymraeg Treganna in Canton, including pupils, took part.
The assembly government said the reorganisation would not have improved education provision.
The protest took place during the youth festival at the National Trust estate at Llanerchaeron in Ceredigion, with pupils wearing the Welsh Not, a symbol of the repression of the Welsh language in some schools during the 19th Century.
Cardiff council had proposed closing Lansdowne Primary in west Cardiff and transferring pupils there to nearby schools, and moving Ysgol Treganna to the vacated building as part of a plan to cut surplus English-language places.
Treganna currently shares a site with Radnor Primary, but parents say Treganna is heavily oversubscribed and has more than 200 pupils in a space designed for 167.
Lansdowne Primary parents campaigned vigorously against the proposal.
A number of Treganna parents at the protest claimed the decision to block the reorganisation had been politically motivated.
Huw Charles, chair of governors at Treganna, said: "We feel betrayed by the Welsh Assembly Government and the decision by Carwyn Jones.
"All we want is a great building for our kids which compares with the other schools in Cardiff.
"I think if everybody realised all this money is being wasted on something like 8,000 empty spaces in our schools - if that money could be diverted it could enhance the education not just of Welsh language pupils but of English language as well."
Mr Charles also believes there are political motives behind the decision.
"I think people are watching their backs, watching the voters - it's a year to go until the assembly elections and I think people are afraid of making decisions," he said.
"This is what we voted them in for and they should stand up for their convictions and give us what we want.
"It's just playing around with politics. It's not good enough for my children."
No-one from the Welsh Assembly Government present at the eisteddfod wanted to be interviewed on the subject.
But the assembly government has said that addressing the situation was a "matter of extreme urgency".
It said in a statement last week: "We recognise that any solution must ensure decent conditions and provision for children educated through both the medium of Welsh and English in the area.
"It is important that overcrowding in any schools in the locale should not happen as a consequence of any proposed solution.
"The Welsh Assembly Government also remains determined to implement its Welsh-medium education strategy.
The assembly government previously said the proposals were "not likely to improve the standard of education provision in the area".
Related Internet Links
The BBC is not responsible for the content of external sites.