Police investigate Habbo Hotel virtual furniture theft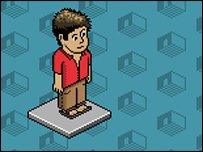 Thieves have struck again in the virtual world Habbo Hotel.
Finnish police are investigating up to 400 cases of theft, with some members reporting the loss of up to €1000 (£840) worth of virtual furniture and other items, according to Detective Sergeant Marko Levonen.
"We have done five home searches in five cities in Finland," he said.
This is not the first time Habbo Hotel, which allows users to meet friends and buy virtual goods, has been targeted.
In 2007, a Dutch teenager was arrested for allegedly stealing virtual furniture worth thousands of euros on the site, which is believed to have more than 100 million registered "avatars".
DS Levonen explained that several Habbo Hotel members contacted the police earlier this year, saying their virtual belongings had been stolen, and seeking help from the police.
The Finnish company Sulake, which owns Habbo Hotel subsequently identified several hundred more users who appeared to have been targeted, according to DS Levonen.
The online thieves allegedly targeted users with fake web pages to capture usernames and passwords, in what is commonly known as an online "phishing" scam.
"Habbo as a virtual world is targeted by thieves from all over the world," said Mikko Hypponen, chief research officer at Finnish internet security firm F-Secure.
"We've seen Dutch hackers, Italians, Russians and others, and have investigated some of these cases previously with the company that runs Habbo."
Mr Hypponen pointed out that Habbo is just one of many online games and virtual worlds being targeted by cyber-criminals: "We see malicious attacks and trojans stealing accounts for all the games you can imagine, including World of Warcraft, Farmville and so on.
"Poker games for example are susceptible to trojans which share your cards with other players around the table.
"When the TV stars play poker online, we're talking potential losses of hundreds of thousands of euros," he said.
In the past, the theft of virtual goods has even given rise to serious physical harm in the real world. In 2005 a Chinese gamer was stabbed to death in a row over a sword in a game.
Shanghai gamer Qiu Chengwei killed player Zhu Caoyuan when he discovered he had sold a "dragon sabre" he had been loaned.
According to Finnish police, the Habbo Hotel investigation continues. A representative from Sulake was not immediately available for comment.
Related Internet Links
The BBC is not responsible for the content of external sites.