Citizen science 'can safeguard birds' future'
By Mark Kinver
Science and environment reporter, BBC News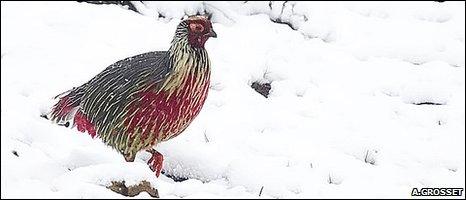 Encouraging people to record everyday sightings of common bird species could help limit future extinctions, an international study suggests.
It concludes that large, long-running records are needed to show how numbers and distribution change over time.
The authors add that the internet could allow people to log their sightings on line, and urge websites to standardise the way data is collated.
The findings have been published in the journal PLoS Biology.
Lead author Elizabeth Boakes said millions of people enjoyed birdwatching, and data collected by the "twitchers" could be vital for professional scientists in the future.
"There is a wealth of untapped data that could be made available for conservationists," explained Dr Boakes, a research associate for the Natural Environment Research Council (Nerc) Centre for Population Biology at Imperial College London.
"In the future, say 50 or 100 years time, if scientists want to reconstruct a picture of our present-day biodiversity, they are not going to be able to because the data has not been recorded," she told BBC News.
"We found that data from the past 30 years or so has been heavily biased towards threatened species and areas of high biodiversity, such as protected areas like national parks."
Dr Boakes presumed that the bias in the contemporary records were a result of the focus on conservation.
"While this is very sensible, it means that we are really lacking data from huge areas of low biodiversity," she said.
"For example, our records from India have a lot of recent data from the Himalayas, but we have hardly any data at all from the central plains; yet there must be birds there.
"It is really important that people record every bird, not just the exciting species that they see."
The team reached their findings after collating 170,000 records for 127 gamebird species across Europe and Asia dating back over the past two centuries.
Sources of data included museum collections, literary sources such as journal entries and private letters, and ringing data.
Limited resources and funding meant it was unlikely that professional biologists and conservationists were going to comprehensive, continuing surveys on the scale required, suggested Dr Boakes.
However, she added that it was a gap that could be filled by "citizen scientists".
"Museum collections in the past provided good representative data, and they are the only source that really did that.
"Now, museums are chronically underfunded and people cannot go out and collect everything, so we need something to replace the role of museums in recording biodiversity, and I think citizen science offers the best prospect."
The authors said the development of the internet and mobile computing had led to a "vast increase in citizen science projects, which can faciliate collection and distribution of all kinds of taxonomic data from a wide geographic area at minimal cost".
Dr Boakes added: "We are suggesting that we need to have a formalised website on which people can enter data on not just birds, but plants and mammals etc."
However, the team acknowledged that submissions lacking geographical references, or that were not fed into a centralised database, would have "little future scientific value".
"But there are numerous examples of citizen science projects recording less charismatic taxa ranging from freshwater sponges to lichens, and these give reason for real hope that we can eventually establish a robust mechanism for monitoring changes in global biodiversity," they wrote.
Related Internet Links
The BBC is not responsible for the content of external sites.