Prince Charles hosts Clarence House public garden party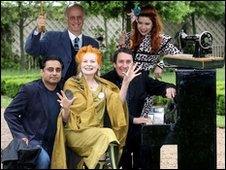 Prince Charles is to open the gardens of his official London residence for a 12-day public festival in September.
Clarence House will host the 'Garden Party To Make A Difference' as part of the prince's Start initiative which promotes sustainable living.
Jools Holland, Sanjeev Bhaskar, Dame Vivienne Westwood and Paloma Faith will all take part and attended the launch.
The festival will include exhibitions, interactive displays and a host of activities and live performances.
The Start initiative was set up to help people across the UK adopt a more sustainable lifestyle and promote greener practices.
The move has enjoyed support from several big businesses as well as an array of celebrities, such as Alan Titchmarsh, who will tend the gardens at the upcoming festival.
Presenter and bandleader Jools Holland will provide the musical programme for the event while Jonathan Dimbleby, Clive Anderson and Sanjeev Bhaskar will chair a series of debates.
Comedian Mr Bhaskar said: "I am very pleased to be involved with Start. Having witnessed creative approaches to sustainability in Africa and India it seems only right that we adopt similar attitudes here.
"Start essentially gives us more control over our own lives by giving us fresh (and sometimes forgotten) ways of making our resources go further. Good news for our environment and good news for our pockets."
Prince Charles said: "We have a fantastic team of talented curators who are helping us create an event which will, I hope, be both fun and informative.
"This festival is just one way in which Start can help to demonstrate how we can all make a difference, however big or small the steps we take."
The garden party will run from 8 to 19 September.
Related Internet Links
The BBC is not responsible for the content of external sites.