Manchester bar staff in Rooney name change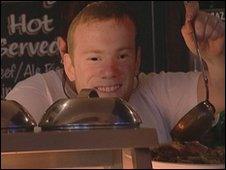 A pub boss has instilled some World Cup spirit in his staff by convincing them to change their names to Wayne Rooney.
Ten staff at the Shakespeare Inn in Manchester city centre made the switch by deed poll to show their support for the striker and the England squad.
Boss Chris Hilditch hopes his stars behind the bar will enthuse customers during the tournament.
But asked whether he had led by example and followed suit, he replied: "No, I'm the boss - Fabio Capello."
The staff all applied for a change of name through the UK Deed Poll Service and were granted their new names on Friday.
They will all wear T-shirts bearing their new names during the tournament to make sure customers know what to call them.
Barmaid Wayne Rooney, aka Katie Hyett, told the BBC her family had yet to hear about her new moniker.
"I haven't told them yet, it's still a surprise," the 24-year-old said.
"But my boyfriend is a bit shocked I'm now Wayne. He's a Liverpool fan so he's been sleeping on the sofa in protest."
Although all the shouts of Rooney might get confusing, her manager, Mr Capello, is confident that his staff will enjoy their new names.
"They're all behind it, it's something good [and] a little bit different for the World Cup - so I'm looking forward to it," he said.
"We wanted to bring something in for the World Cup that we could get the customers and everybody involved with.
"What better way than to change our names?"
It is a sentiment shared by Andy Wilkinson, managing director of pub owner Clover Taverns, who has replicated the idea across the country - after changing his name to Sepp Blatter.
"We have over 100 Wayne Rooneys working throughout the country for the whole of the World Cup and I'm glad to say that we have 10 Fabio Capellos keeping them in control," he said.
Related Internet Links
The BBC is not responsible for the content of external sites.