Star Trek star set for Edinburgh Film Festival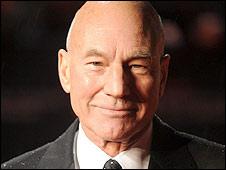 Star Trek legend Sir Patrick Stewart is to be interviewed in a 90-minute live event as part of the Edinburgh International Film Festival.
The Bafta in Scotland Interview is to be at Cineworld in Fountainbridge on 21 June at 1730 BST.
The festival will have 22 world premieres, 12 international premieres and 133 features from 34 countries.
The 64th EIFF, which will run from 16 to 27 June, will open with Sylvain Chomet's The Illusionist.
Sir Sean Connery is to attend its new venue at the Edinburgh Festival Theatre for a showing of The Man Who Would Be King on Sunday 20 June.
The festival will also host the international premiere of Toy Story 3 the day after it is first screened in the US.
The film will be shown on Saturday 19 June, a full month before it goes on general release in the UK.
Three of the festival's four patrons, Sir Sean, Tilda Swinton and Seamus McGarvey, will be attending the festival, officials have confirmed.
The closing night gala will be the world premiere of Third Star, a British film by newcomer Hattie Dalton.
Hannah McGill, EIFF artistic director, said: "We're tremendously excited about the programme this year and especially about how many of our titles are brand new to the world festival circuit and the international industry.
"We're looking forward to welcoming an amazing array of guests, and to celebrating EIFF's 64th year by spreading our excitement about current and classic cinema to our loyal attenders and to new audiences alike."
Officials have lined up a variety of films for this year's festival including what is being dubbed the world's first "audio horror", The Dunwich Horror.
The horror film has no images and is sound only.
It features Still Game comedian Greg Hemphill among the cast and asks the audience to use their imagination to create the pictures.
It is joined by Long Shot, part of the retrospective After the Wave featuring British films which have been "lost and forgotten".
The 1977 film was shot during the Edinburgh International Film Festival that year and has cameos from Alan Bennett and John Boorman as the stars try to pitch their film to the professionals.
Related Internet Links
The BBC is not responsible for the content of external sites.