Obama is 'too cool' to poke fun at
By Kev Geoghegan
Entertainment reporter, BBC News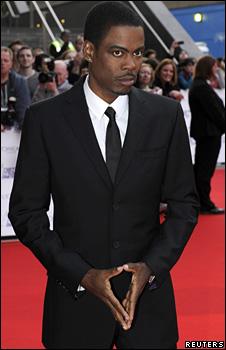 Chris Rock, it would seem, is a fan of all things British.
In 2008, the US comedian set a new record for playing in front of the largest audience in the UK, performing to a crowd of 15,900 fans at London's O2 arena in the first of two shows.
Then, Rock joked about US presidential candidates John McCain and Barack Obama, telling the audience: "He looks so young, every time I see Barack I say, 'So when you getting back with New Edition?'," a reference to Bobby Brown's 80s' boy band.
Now, two years on, Obama has marked his first year in office and Rock has taken the British independent film Death At A Funeral and moved the action from rural England to southern California and a predominantly black cast.
"He's even more fair game now," laughs Rock at the film's UK press junket in London.
"It's still hard to do jokes about him because he's so damn cool," Rock explains of the US president, of whose campaign Rock was a fierce supporter.
"Normally, presidents aren't cool but he's the coolest guy in any room he's in. It's like making jokes about Brad Pitt, like, 'Yeah your wife's hot'... it's not really a joke."
In 2008, Obama even paid Rock the ultimate compliment, paraphrasing one of his most famous and controversial comedy routines.
The segment, Niggas vs. Black People, sees Rock discuss the negative stereotype of the black urban male and his detrimental effect on the African American community.
It earned Rock no small amount of harsh criticism when first broadcast on a 1996 television special, particularly from some black organisations who objected to Rock's use of the "N-word".
But Rock insists comedy is about more than just cheap gags and making people think is one of his priorities
"There's nothing like upsetting people, throwing a topic out there and then bringing it back and they go, 'Oh, okay that's what he meant by that. I thought he was really against us but he's really for us'.
"You got to keep stuff in and a show like that is much better than laugh, laugh laugh."
The US comedian describes himself as a "big fan" of Ricky Gervais - also no stranger to criticism of his material.
Rock supports the British comedian's defence that he won't act as a self-censor.
"The audience will let you know," he says. "I always look at the show, not joke to joke but the show as a whole.
"I want people to feel all sorts of emotions, I want them to laugh, I want them to think. I don't think I've ever done a show where people didn't boo at some point but that adds to it."
At the moment, Rock is busy promoting the American remake of the low-budget British farce Death At A Funeral.
The film location moves from rural England to the US and sees Chris Rock's Aaron, on the day of his father's funeral, dealing with a broody wife, an overbearing mother, a cousin's boyfriend who has accidentally ingested a hallucinogenic drug and a successful sibling, played by fellow comedian Martin Lawrence.
Peter Dinklage reprises his role as his father's secret lover intent on blackmailing Aaron with some compromising polaroids of his dad.
The original film, directed by Frank Oz in 2007, was savaged by British critics and mostly completely unseen by US cinema-goers, though reviews out of the States were more positive.
The new film sees an inevitable shift in tone from mortifying British embarrassment for a more slapstick approach.
"I would have thought it would be more daunting," insists Rock, who also acts as producer on the film.
"But once I did stand up over here and saw how that went, it relaxed me. We're gonna change some words here, we're gonna add some humour. There's a lot of little jokes in this one that aren't in the original."
Theatre playwright Neil LaBute is the man in the director's chair and the cast includes 30 Rock's Tracy Morgan, Loretta Devine, Luke Wilson, Danny Glover, and Avatar's Zoe Saldana.
The predominantly black casting has led to some US critics suggesting the film will be limited to mainly black audiences, something Rock is keen to refute.
"Put it this way, I'm black and my comedy has always appealed to a wide audience. Especially over here, the people are a little more liberal than in the States so hopefully it will appeal to a wide audience."
Rock is currently working on the script for his biography of seminal comedian Richard Pryor.
The film is due to star Marlon Wayans in the lead role. Rock says his actor lends a "vulnerability" to Pryor - who died in 2005.
Rock has also turned documentarian for Good Hair, an investigation into the $9bn-a-year black hair industry.
According to Rock, he was inspired to make the film after his five-year-old daughter asked him: "Daddy, how come I don't have good hair." It is due out in the UK later this month.
Citing Michael Moore as a "major influence", Rock also says Good Hair is "the funniest movie I've made".
He says he is hoping to be back in the UK again soon with another live show but says the challenge will be to make the bigger venues "more intimate" adding, "I'm going to work with screens and stuff."
Death At A Funeral is open across UK cinemas now.