Russia proposes visa deal with EU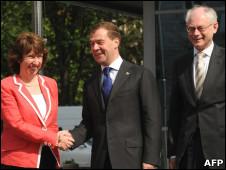 Russia has proposed to the EU scrapping reciprocal visa requirements, saying it wants to make life easier for business and tourism.
Russian President Dmitry Medvedev made the announcement at a summit with EU leaders in southern Russia.
He said there was a "high degree of readiness" in Russia to lift visa requirements, but the situation in the 27-nation EU was "rather different".
The EU and Russia have been considering visa-free travel since 2005.
"The main thing now is not to politicise this issue," Mr Medvedev told a news conference in the city of Rostov-on-Don.
"We must face the truth, consider the state of readiness of the whole of the European Union for this."
He said each EU member state had its own view on the question of cancelling visas for Russian citizens.
"The main thing - it's not even a question of partnership - it would simply make life easier for millions of people," he said.
Related Internet Links
The BBC is not responsible for the content of external sites.