O'Loan loses assembly positions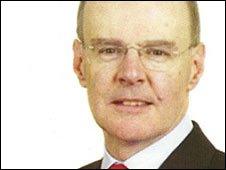 The SDLP's Declan O'Loan has been removed as chair of the NI Assembly Standards Committee and deputy chair of the Culture Committee by his own party.
The move follows the SDLP leader Margaret Ritchie's decision to remove the party whip from Mr O'Loan.
This was after he issued a statement calling for a single nationalist party.
Mr O'Loan had been due to lead a debate in the assembly chamber on new proposals for investigating MLAs' conduct.
The debate will now be led by the new chair of the Standards Committee Pat Ramsey.
PJ Bradley has been given the job of deputy chair of the Culture Committee.
Last week, the party said the whip has been removed for an indefinite period which the leader will decide.
The move means he cannot vote as an SDLP member in the assembly.
Last Monday , Mr O'Loan withdrew a call for the formation of a single nationalist party after there was a furious reaction from colleagues.
Earlier, in a statement not issued through the party press office, he said he had discussed the idea with the grassroots members in north Antrim.
Mr O'Loan said that it was very strongly supported.
But he later withdrew the original statement saying it "does not represent established party policy".