Nude sunbathers on Berrow Beach upset residents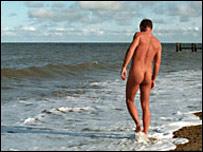 Nude sunbathers at Berrow Beach, in Burnham, are upsetting residents, a councillor has said.
Parish councillor Carol Dyer said they appeared to be exhibitionists rather than genuine naturists.
She said the beach was not a designated nudist area although it is listed as one on a website.
Avon and Somerset Police said it was not illegal to be naked unless the person exposing themselves was causing others harassment, alarm or distress.
Councillor Dyer said: "A lot of them aren't actually what I'd call nudists, they're more exhibitionists.
"People are walking along the beach with young families and they're standing up and flaunting themselves."
Andrew Welch, from British Naturism, said: "If I took my clothes off now and walked down the street where I live I would not be committing a crime.
"Unfortunately that's not widely known because we have cultural and social issues in this country that make a lot of people think a naked person, particularly a naked man for some reason, is up to no good."
Mr Welch asked: "Why should we be forced to go somewhere else because some people wrinkle their noses at it?"
But he added: "We have trouble on some beaches where some people use them for cruising grounds, for meeting people, for stripping off and doing things to each other that we don't want to see.
"We are against it and want to stamp it out."
Inspector Roger Tolley said he would encourage nude sunbathers to use designated beaches.
"It's a family resort with lots of people and lots of young children who clearly don't want to stumble upon naked people on the beach," he said.
Related Internet Links
The BBC is not responsible for the content of external sites.