Doctor shortage sees new recruitment drive in India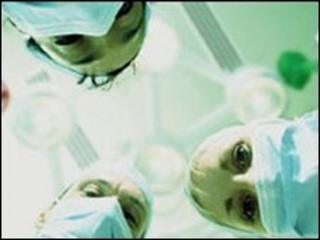 A shortage of junior doctors to start work in hospitals this August is forcing the NHS to try to recruit from India, the BBC has learned.
Tighter immigration rules introduced in recent years meant many overseas medics left Britain and returned home.
But the exodus, added to new European regulations limiting the hours of doctors, caused unfilled vacancies.
Attempts to recruit scores of Indian doctors foundered on a disagreement between government departments.
"We pulled the plug on overseas recruitment far too quickly," said Professor Derek Gallen, who is postgraduate dean of medical training for Wales.
"[We didn't] realise what the implications of that action would be two, three or four years down the line," he added.
"Particularly with the European Working Time Directive [and the] increased feminisation of the workforce. These are things that have made staffing rotas very difficult."
First-choice UK
The Welsh Deanery is one of four medical training schools across the UK which has been recruiting in India over this year.
The BBC was present last week as interviews were held with candidates in Kolkata.
One of those who has been offered a post is Dr Lopamudra Nath Chaudhary, who said: "I've already worked in the UK and I've seen how good the training programmes are for the junior doctors. My first choice was always to go the UK."
The other deaneries involved cover the Severn area, the West Midlands and Northern Ireland. In total, they plan to take more than 100 junior doctors over to the NHS.
The deaneries are looking to recruit in areas such as paediatrics, obstetrics, gynaecology, anaesthesia, as well as accident and emergency.
Dr Firdaus Adenwalla, who has been involved in recruiting doctors for the NHS for several years, told Radio 4's The World at One that he has seen a sharp drop in the number of candidates applying for jobs since the immigration rules were first tightened in 2006.
"A lot of the jobs that overseas doctors were taking up were in areas where British doctors didn't want to go and in specialities that the British doctors didn't want to take up.
"So even though in 2006 I was getting 150 cvs to fill one job, all of them were overseas doctors.
"Now I get about three or four (applications) and on interview day either none of them turns up or one of them turns up."
Services cut
The need for junior doctors is most acute outside the big metropolitan areas.
The European Working Time Directive, which was fully introduced into the NHS last August, limits doctors to working no more than 48 hours per week and has left gaps on rotas.
Some district general hospitals have had trouble attracting enough staff to cope with the changes leading, in some cases, to services being cut.
In May, the Victoria Hospital in Kirkcaldy had to close its accident and emergency department overnight for a week due to a shortage of junior doctors.
At Erne hospital in Enniskillen, its obstetric and gynecology service had to be suspended for several weeks for the same reason.
The dearth of doctors has been recognised by the Department of Health.
The World at One has learned that it approached the British Association of Physicians of Indian Origin (BAPIO) seeking its help to recruit several hundred junior doctors from India.
BAPIO agreed to help the government - as long as the Indian medics were allowed to stay and get training for between three and four years, rather than the two year limit currently in place.
Dr Ramesh Mehta, the president of BAPIO, stressed the importance of allowing the Indian doctors enough time to get proper training in the UK, rather than simply use them to plug holes in rotas.
"The Department of Health said its hands are tied," said Dr Mehta.
"The problem is at the Home Office. The Department of Health is very much willing to extend this [visa] period, but (they are saying) that the block is at the Home Office."
Having failed to get the changes it was looking for, BAPIO refused to help the DoH.
In a statement, a Department of Health spokeswoman said: "The Department and UKBA (UK Border Agency) worked together to ensure the immigration system struck a balance between providing valuable training opportunities for foreign doctors without preventing UK-trained doctors from progressing in their careers."
The shortage of junior doctors means hospitals are struggling to fill vacancies, and having to devise their own initiatives to recruit doctors wherever they can find them.