Dunkirk 'little ships' return from re-enactment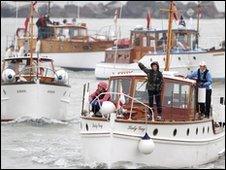 The flotilla of "little ships" that re-enacted the Dunkirk evacuations to commemorate the 70th anniversary of the event has returned to Kent.
About 64 ships headed to France from Ramsgate on Thursday to mark Operation Dynamo, the evacuation of thousands of soldiers from Dunkirk's beaches.
A ceremony was held at the Allied memorial on Dunkirk beach on Saturday, with the "little ships" off-shore.
The fleet had been due back on Monday but was delayed by bad weather.
The original evacuation took place between 26 May and 4 June 1940, and involved 900 naval and civilian craft which were sent across the Channel under RAF protection.
Among them were a number of smaller vessels including fishing boats, pleasure crafts, paddle steamers and lifeboats.
About 338,000 troops, including French, Canadian and Belgian soldiers as well as British service personnel, were rescued after they had been driven back to the coast of northern France by the German army.
Historians say the evacuation boosted British morale at a crucial point of the war.
Related Internet Links
The BBC is not responsible for the content of external sites.