Unions call for urgent sale of Redcar plant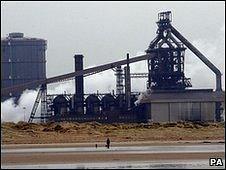 Union leaders have called for the urgent sale of Redcar's mothballed Corus plant before it "deteriorates".
The comments, from the Community union, come after a fact-finding trip to Thai steel company SSI, which is rumoured to be interested in buying the facility.
Corus is believed to be in discussions with SSI, but all parties have signed confidentiality agreements.
Teesside Cast Products (TCP) was partially mothballed in February, with the loss of 1,600 jobs.
A delegation of union members and local MPs flew to Thailand for the four-day visit, during which they met SSI president Win Viriyaprapaikit.
On his return, Michael Leahy, general secretary of the Community union, said the firm would be "a very good fit for TCP".
He said: "We didn't ask SSI if they were in talks with Corus or parent company Tata, because we don't think that it would be right to put them on the spot.
"It is Corus and Tata who have the responsibility to let the TCP workforce and their union representatives and the people of Teesside know what is going on.
"We understand the need for commercial confidentiality, but what we need to see is a degree of urgency to find a buyer before the plant condition deteriorates beyond repair."
The delegation also included Redcar's MP Ian Swales and Tom Blenkinsop, MP for Middlesbrough.
Kirby Adams, chief executive of Corus, has hinted at a possible sale of TCP.
Speaking in India at a presentation of Tata's financial results, he said talks were continuing and he expected a "good result".
Related Internet Links
The BBC is not responsible for the content of external sites.