BA strike: Latest talks end without an agreement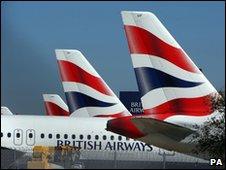 British Airways and the Unite union ended their latest talks on Tuesday without agreement to settle the continuing strike by cabin crew staff.
With the current five-day walkout due to enter its fourth day on Wednesday, it is not yet know when the two sides will resume negotiations.
BA earlier said it will fly more services during the next strike, which is set to begin on Saturday.
It expects to operate all flights to South Africa ahead of the World Cup.
These departures will be part of the 80% of long-haul flights it aims to operate from Heathrow.
It also expects to run 60% of short-haul services from the airport. Flights from Gatwick and London City airports will continue to be unaffected.
BA says that during the current five-day action it has been able to operate 70% of long-haul flights and 55% of short-haul flights at Heathrow.
For the next strike, which is due to run from 5 June to 9 June, BA says it expects to fly more than three-quarters of customers who booked flights.
On Monday Unite warned it could ballot members for further walkouts in July. BA has yet to comment on this threat.
The disagreement between Unite's cabin crew workers and BA centres on jobs, pay and working conditions.
Unite is also demanding that BA reinstates the travel perks of striking workers, and cancels disciplinary proceedings against others.
The union has offered to call off the strikes if the travel concessions are put back in place, ahead of agreeing a final deal.
BA says it has offered to reinstate travel concessions, but only as part of a final agreement.
Mr Woodley said on Monday that its members were standing up to BA's "bullying".
"We all know there is a deal to be struck, one that recognises the real commercial needs and problems of the company as well as our members' legitimate interests," he said.
"But we are not and never will be prepared to see our members and our union humiliated, victimised and reduced to ruins."
He further claimed that BA's bosses were not interested in reaching an agreement.
"They are trying to starve our members back to work," said Mr Woodley.
BA denies the bullying accusations, and on Sunday said it had reintroduced all flights from Heathrow to New York's JFK airport.
Related Internet Links
The BBC is not responsible for the content of external sites.