Picture plea in Suzanne Pilley murder hunt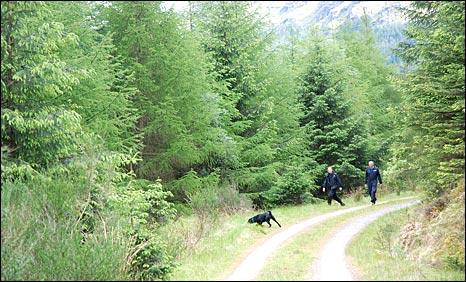 Detectives investigating the murder of a missing Edinburgh woman have appealed for photos from the area it is believed her body was hidden.
Suzanne Pilley, 38, disappeared four weeks ago and officers think she was murdered and her body was dumped.
Police have focussed their search operation on a large area of Argyll.
They have now urged anyone with pictures taken near Glen Croe Forest on 5 May to check whether they show a silver car, and if so to pass them to police.
Det Ch Insp Gary Flannigan, from Lothian and Borders Police, said they also wanted to speak to anyone who had been walking, cycling or working in Glen Croe at the time.
He said Glen Croe is the forested area next to the Rest and Be Thankful on the A83, and they were interested in people who had been there on Wednesday 5 May, either between 1300 BST and 1530 BST, or in the evening between 1800 BST and 2030 BST.
"The area around Glen Croe Forest, like the nearby Rest and Be Thankful, is a spectacular area for scenery and a well known photo-stop," he said.
"I'm sure people who may have been in the area will have taken photos and perhaps have not had them developed or downloaded yet. We would ask that they do this as a matter of urgency, and review their pictures for a silver family-size car.
"We are keen to see any photos which contain such a silver car and would ask that they be forwarded to our enquiry team immediately at OperationMica@lbp.pnn.police.uk".
Det Ch Insp Flannigan said his officers were working closely with Ms Pilley's parents and could see every day the "distress and torment" they were going through.
He urged anyone with any other information regarding her disappearance to come forward.
Related Internet Links
The BBC is not responsible for the content of external sites.