Gaza aid ship protesters try to storm BBC Manchester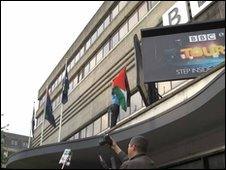 Protesters demonstrating against the Israeli attack on a Gaza-bound aid ship have attempted to storm the BBC in Manchester.
More than 800 people marched through the city centre and down Oxford Road, where the crowd surged at the BBC's entrance, smashing its front doors.
One man climbed to the top of the building to plant a Palestinian flag and there were at least three arrests.
Protesters said they were also angry about the BBC's coverage of Israel.
Police officers formed a chain across the BBC's Oxford Road entrance and surrounded the building with police vehicles and officers.
Protesters from the Palestinian Solidarity Campaign, who organised the demonstration, chanted slogans including: "BBC tell the truth."
The demonstration followed the confirmed killings of nine humanitarian aid workers by Israeli soldiers, who stormed their ship as it approached Gaza.
Talat Ali, 40, organizer from the Palestine Solidarity Campaign said: "This is a peaceful demonstration against the attack that has taken place on the Gaza flotilla.
"We are not happy with the way commanders boarded vessels and butchered people.
"We are not happy with the biased news given by the BBC."
A BBC spokesman said: "'There was a protest outside the offices of BBC Manchester, however staff and visitors were safe and services were not interrupted."
Greater Manchester Police were unavailable for comment.
Related Internet Links
The BBC is not responsible for the content of external sites.