Police hunt Cayton village plant poisoner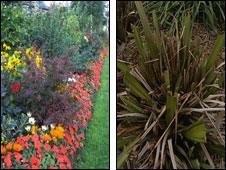 Police are hunting a saboteur who has killed off floral displays in a North Yorkshire village taking part in this year's Britain in Bloom competition.
A banned weed killer has been used in a spate of attacks which is believed to be a deliberate attempt to scupper the community's chances in the contest.
It is estimated it will cost £20,000 to dig up the floral displays, remove the chemical and refill the beds.
Les Hutchinson, chairman of Cayton In Bloom, said the village was devastated.
He said: "Why on earth would you devastate the whole village?
"We raise money to do the work and we just work in the village and do the best we can for the whole environment.
"We enter competitions but what we really want to do is improve our local environment for the community and visitors."
Over the years the village's flowers beds and baskets have won numerous awards.
But in the last month, a number of floral displays have been killed off and analysis tests have shown the banned weed killer sodium chlorate has been used.
Mr Hutchinson said he believed the person responsible was someone local who had a grudge rather than young vandals.
"The person who has done this has got knowledge of the products they've used. They are very dangerous weed killers," he said.
Roger Burnett, parks and countryside manager for Scarborough council, said: "In 30 years of horticulture I've never come across this sort of deliberate contamination in any village or town."
Mr Burnett said the weed killer had caused scorching and desiccation of the leaves.
He added: "It's on every bed, on every tub, on every border.
"The trouble is sodium chlorate is such a hazardous chemical that once it's on the ground it tends to stay in the soil for a number of years so we're wondering what to do and seeking expert advice on how to deal with the problem."
Related Internet Links
The BBC is not responsible for the content of external sites.