Football hooligans must surrender passports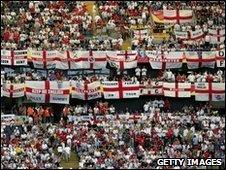 Convicted football hooligans must surrender their passports to stop them travelling to the World Cup in South Africa.
Individuals in England and Wales with football banning orders must hand over their documents at police stations by 2200 BST on 2 June.
They will also have to report to the police on every England match day during the tournament.
Passports will be returned on Sunday 11 July, when the World Cup finishes.
The deadline comes as a South African police official warned convicted UK hooligans not to travel to the country.
South African police minister Nathi Mthethwa said his country's officials were working closely with British police to prevent hooligans reaching Africa's first World Cup.
"We really will not take any nonsense this time around," he said.
"This commitment by the UK authorities [to ban hooligans] is not just a commitment - it is something concrete."
Assistant Chief Constable Dave Thompson, head of the domestic World Cup operation said hooliganism was "much less of a problem than in the past".
He added: "Football banning orders have been very successful, with less than 10% of those who are issued with banning orders re-offending.
"There are however a small minority of people who engage in football related violence and disorder, causing a risk to the safety of the vast majority of law abiding football supporters.
"Acpo [Association of Chief Police Officers] and police forces have been working closely with the CPS to tackle football-related violence and hooliganism and to identify such individuals and bring them to justice."
An Acpo spokeswoman said the same system was employed before the 2006 World Cup in Germany with "100% compliance".
Related Internet Links
The BBC is not responsible for the content of external sites.