Bikers in Kent and Sussex urged to carry crash cards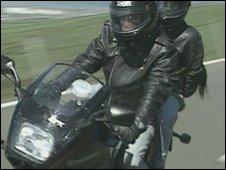 Motorcyclists attending the annual Margate Meltdown are being handed cards which could potentially save their lives in the event of an accident.
South East Coast Ambulance (SECAmb) has joined forces with the Highways Agency to introduce the "crash cards".
Riders fill in the cards with life-saving information to help medics and fix them into their helmets.
More than 30,000 riders visit the Kent town over the Bank Holiday weekend. The card is also being launched in Sussex.
Sussex Police said on Friday that four motorcyclists were seriously injured on the roads in East Sussex last weekend.
"This card could really make the difference between life and death," said paramedic Chris Attfield, who helped develop the card for SECamb.
"It is a sad fact that when a motorcyclist is involved in a collision it can be very serious and leave them unconscious.
"The cards will not only help identify them but also ensure we can tailor the treatment we provide at the roadside."
The cards have space for any medical history, along with next of kin and other information.
The cards come with a green sticker that can be fixed to the outside of the helmet to show emergency services a crash card is inside.
"Motorcyclists represent less than 1% of road users, but in terms of those killed or seriously injured, they account for 19% of the total number of casualties Felicity Drewett, Highways Agency co-ordinator for Kent and Sussex.
Related Internet Links
The BBC is not responsible for the content of external sites.