Concern for Scots on Gaza aid flotilla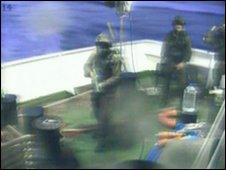 At least five Scots are understood to have been on an aid convoy which was stormed by Israeli commandos as it sailed towards Gaza.
Nine people are believed to have died when the six-strong flotilla was intercepted in international waters.
The largest vessel in the flotilla was boarded by soldiers who fired at some of the 500 people on board.
Scotland's Deputy First Minister Nicola Sturgeon said Israel's actions had been "rightly condemned around the world".
The Israeli government has said its forces were shot at and attacked with weapons when they boarded the lead ship, the Mavi Marmara, overnight.
Contact with activists on the ships was lost after the raids and no first-hand accounts from them have yet emerged.
Ms Sturgeon called on Israel to lift its blockade of Gaza, and expressed her "deep sadness" at the loss of life on the flotilla.
She added: "My primary concern is for the safety of the Scots that are on board. The Israeli government must provide immediate reassurance of their current situation and well-being.
"This use of violence against a humanitarian convoy carrying medicine and other aid is being rightly condemned across the world and demonstrates the increasing need for Israel to lift the blockade.
"The blockade of Gaza is causing untold suffering to ordinary Palestinians who want to go about their everyday lives in peace and must be brought to an end."
Ali El-Awaisi, from Dundee, was on board a vessel in the flotilla when the attack took place.
His brother, Khalid, told BBC Scotland demonstrations against the action were taking place in Dundee and across Scotland.
He said: "This is in Glasgow, in Edinburgh, in Inverness, in Stirling.
"The people are appalled at what Israel has been doing, there are no weapons on that ship, my brother has been telling me as they were leaving the port of Antalya they were security checked, like you would be security checked at any port."
Another Scot believed to have been on the convoy when the vessel was boarded was journalist and documentary maker Hassan Ghani, 24, a former Stirling University student from Glasgow.
His father, Haq Ghani, said he was waiting to hear news of his son's safety.
He added: "I am extremely angry, dismayed and shocked upon hearing about the deplorable loss of life upon the peace flotilla, as a result of typically disproportionate and aggressive actions by the Israeli Defence Forces.
"On a personal note, my family and I are fraught with worry for our son. On his last posting on Facebook he made mention that Israeli ships were spotted on the radar and since then we have heard nothing from him.
"I have been in touch with the Foreign and Commonwealth Office, but they have not heard any more information from the Israeli government."
Also understood to have been travelling was Theresa McDermott, a Scottish activist with the Free Gaza campaign group.
Last year, 43-year-old Ms McDermott was found in Ramleh prison four days after being forcibly removed from a sea-borne Lebanese aid mission to Gaza.
Scottish Palestinian Forum secretary Alison Phillips said: "I know Theresa McDermott personally from my own involvement and met her in the Scottish Parliament only last month.
"This morning's attack on the flotilla took place in international waters and was thus a grave violation of both international maritime and humanitarian law.
"I ask that the Israeli ambassador be summoned to the Foreign Office to explain these actions."
The flotilla, which was carrying some 10,000 tonnes of aid, left the coast of Cyprus on Sunday and had been due to arrive in Gaza on Monday.
It was attempting to defy a blockade imposed by Israel after the Islamist movement Hamas took power in Gaza in 2007.
Israel had repeatedly said the boats would not be allowed to reach Gaza.
Related Internet Links
The BBC is not responsible for the content of external sites.