Bridge in place on Fen walk route in Cambridgeshire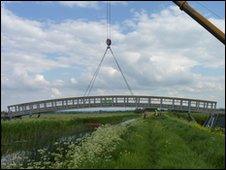 A new bridge has been placed across a canal on a route being created for cyclists and walkers in Cambridgeshire.
The bridge across Reach Lode forms part of the Lodes Way, a nine mile (14.5km) route which will link Wicken Fen to Anglesey Abbey and Bottisham.
It will be officially opened, along with a new 1.25 mile (2km) cycle way across Burwell Fen, on 12 September, the National Trust said.
Wicken Fen manager Chris Soans said the bridge forms a significant milestone.
"For the first time walkers and cyclists will be able to take a cross country route between Wicken Fen and Bottisham and explore new areas of our magnificent countryside," he added.
The new route will also complete the current gap in National Cycle Route (NCN) 11 from Cambridge to Ely and connects with NCN Route 51 from Cambridge to Newmarket.
It is anticipated that the entire Lodes Way will be completed by 2013, when a new crossing over Burwell Lode suitable for horse riders will have been constructed.
Related Internet Links
The BBC is not responsible for the content of external sites.