Mary Queen of Shops hits out at supermarkets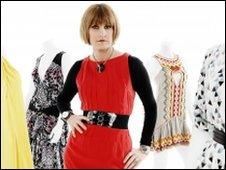 TV shopping expert Mary Portas has blamed supermarkets for "killing" Britain's smaller shops.
The star, known for shows like the BBC's Mary Queen Of Shops, said she feared the "seemingly unstoppable march" of the superstores.
Writing in the Radio Times, Portas said she believed communities were being sacrificed for convenience.
She grew up "knowing every shopkeeper in our town" and described them as "the cornerstones of family life".
Portas said: "The rise of the supermarket giants - and our love affair with them - is killing Britain's small shops.
"We're sacrificing not just our greengrocers, our butchers and our bakers, but also our communities for convenience.
"In 1954, St Albans was the unlikely starting point for this revolution when it was chosen as the pilot location for Tesco's first ever 'convenience store'."
She said: "The first shopkeepers to suffer from the onslaught of this new breed of self-service shops were the greengrocers, butchers and corner shops that have gradually disappeared from our high streets.
"But what worries me more is the seemingly unstoppable march of the supermarkets into pretty well every other product category - from fashion to financial services, homewares to hair salons, health and beauty to DIY."
Portas said she would always volunteer to run errands when she was a child, and she would often find her mum drinking tea with the shopkeepers as they delivered to her home.
"So when my mother died when I was 16, and I was the one who was left to look after the family, all our local shops were there to look out for us," she said.
"It was the local butcher who was our greatest salvation, putting aside offcuts of meat, which I picked up on the way home from school, to feed my siblings and myself."
Portas described her local shopkeepers as "the cornerstones of family life".
And she said the question was how can small shops survive when they cannot compete on price or range.
She said: "I've always summed it up in three words: service, specialism and connectivity - to their local communities - and if they work with each other to create high streets we want to visit, they'll be stronger."
Related Internet Links
The BBC is not responsible for the content of external sites.