France-Africa summit in Nice seeks business boost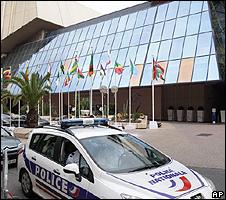 France aims to give a new push to business ties with Africa at a two-day summit opening in the Mediterranean city of Nice.
President Nicolas Sarkozy is hosting the Africa-France summit for the first time. Thirty-eight African leaders and 250 business executives will be there.
The military junta leaders of two former French colonies - Guinea and Niger - are among those attending.
France is vying with China and other emerging powers for markets in Africa.
The problems of piracy, terrorism and climate change are also on the agenda.
African countries are demanding a bigger say in the UN Security Council and the G20 forum, so there will be some discussion of how that might be achieved.
Civil liberties groups say that of the 38 African heads of state invited only two could not be accused of human rights violations.
Madagascar - still embroiled in a political crisis - was not invited, and Zimbabwe refused to send a delegation after France objected to the attendance of President Robert Mugabe.
In a sign that France is not treating it as a Francophone "family gathering", President Sarkozy will hold bilateral talks with the leaders of Nigeria and South Africa - the two heavyweight English-speaking powers on the continent, France's Le Monde newspaper reports.
Related Internet Links
The BBC is not responsible for the content of external sites.