Ban Ki-Moon in football match with Ugandan leader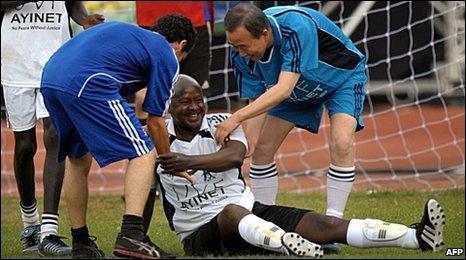 UN chief Ban Ki-moon and Ugandan President Yoweri Museveni have taken part in a football match to highlight the plight of war crime victims.
The event, in the Ugandan capital Kampala, comes ahead of a conference reviewing the progress of the International Criminal Court.
An international treaty establishing the court was signed in 1998.
Many Ugandans have been victims of war crimes, notably at the hands of the notorious Lords Resistance Army (LRA).
The LRA has been indicted by the international criminal court over massacres and abductions perpetrated over almost two decades.
BBC Africa Correspondent Karen Allen says the aim of the match was to capitalise on World Cup fever sweeping across Africa in an attempt to draw attention to the cause.
Mr Ban, in a blue shirt, represented the "Justice" team, while President Museveni - dressed in white - played for the "Dignity" team.
Our correspondent says they enjoyed 10 minutes of boisterous play, watched by local crowds.
President Museveni's team emerged victorious defeating the UN envoy one nil.