Festival focus shifts from mosh pit to posh pit
By Simon Atkinson
Business reporter, BBC News, Cheltenham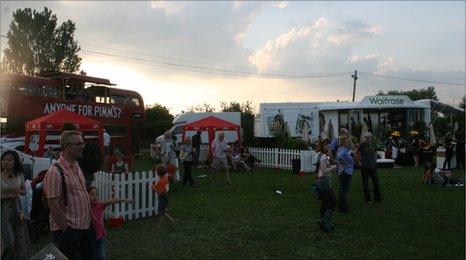 Between the tents, two young lads kick around a red and white inflatable beach ball, branded with the name of a broadsheet newspaper.
Before long, as with boys everywhere, they begin to commentate on their match - but despite building World Cup fever, there is no mention of Wayne Rooney or Frank Lampard here.
"You be Jamie Oliver," says one, carefully lining up a shot. "And I'll be Gordon Ramsay."
This fleeting exchange sums up much of the atmosphere at the Wychwood Festival at Cheltenham racecourse - primarily a music event but where the bigger queues are for the 'Make your own smoothie' sessions held by Waitrose (whose cocktail bar also does swift business) and those waiting to scrub away the dried-on sunscreen at the Posh Wash showers.
Now in its sixth year, Wychwood is one of a handful of festivals unashamedly catering for the more affluent, family-focussed festival goer.
And enjoying the sunshine outside the Pimm's bus, civil servant Steve Mead, who is here with his wife, son and daughter, admits a more typical weekend would have included visiting a stately home or a theme park.
"With festivals you tend to think of Glastonbury, Isle of Wight and mud. You don't think of bringing the family along but this is very clearly family-orientated," he says.
"The facilities are good and the parking is good. It shows you're old when you think about parking when you come to a festival."
For all the upmarket facade - there are still plenty of elements of the traditional festival - from the stalls selling hats, flags and temporary tattoos to the stage for new unsigned bands.
And despite the clean, family image, it takes just half an hour for another experience familiar to fans of bigger, more mainstream festivals - when a couple of slightly shifty looking blokes with Scouse accents wander by, offering to sell some cannabis.
Dominique Woolley, 33, is a veteran of music festivals, but it is the first such outing for six-month-old daughter Mya.
"It's a bit posher than I'm used to. There are clean toilets for one thing," she says.
"I used to be a bit of a music geek and write down all the bands I wanted to see, but with a baby you just have to go with the flow a bit so this is great for us."
Families are at the heart of its target audience - to the extent that the dates are chosen to coincide with half-term holidays, says festival director Graeme Merifield.
But he accepts that it is also has a "middle class feel" - perhaps because of the costs of attending a festival.
"When we started off I thought it would appeal to a broad audience," he says.
"The problem is that festivals are quite expensive and unfortunately that knocks out quite a lot of people who cannot afford to come."
Efforts to widen the demographic have included trialling reduced price tickets for teenagers and making camping an optional extra.
"It would be great if we could find a way of extending it to more people," Mr Merifield says, though adds that tickets for two adults with a couple of young kids cost about £260 for a full weekend of entertainment, "which I'd say was pretty good value".
Wychwood is almost certainly not the UK's most upmarket festival - an honour most in the industry say belongs to Cornbury, which, given its volume of advertising here, presumably feels there is plenty of crossover in the two audiences.
Held in neighbouring Oxfordshire early next month, Cornbury fully admits it is a "posh" event complete with hot air balloon rides, and a website offering glamorous camping (they call it "glamping") and testimonials from law firms saying what a great event it is to entertain clients.
And with David Gray its main headliner this year, there is unlikely to be too much controversy on stage to spoil a lucrative business deal.
Then, in mid-July, Southwold in Suffolk hosts the Latitude festival - a weekend that features the Royal Shakespeare Company, Sadler's Wells ballet and orchestras, as well as the more traditional fare of bands such as Vampire Weekend, Florence and The Machine and Belle & Sebastian.
There is clearly a demand with 30,000 tickets selling out with months to spare for the event one Sunday newspaper supplement said was '"as relaxing, cultural and middle class (baby buggies, risotto stalls, poetry tents) as you can get".
Hearing this read back to him, Latitude's founder, Melvin Benn, raises his eyebrows slightly but concedes it is "a pretty decent description".
It is not the sort of event that 25 years ago, he would have envisaged himself running.
At that time Mr Benn was heavily involved in the Red Wedge - an effort by the music industry to engage young people with the Labour party - while running the Workers Beer Company - owned by a trade union group.
But he is unmistakably proud of the way Latitude was conceived and developed as "an intimate boutique festival".
"It has a mix of highbrow and slightly less than highbrow culture - and an element of being able to party," he says.
"I saw a gap in the market because a lot of people I know spend their Sundays browsing through the review sections of newspapers doing just that - indulging in the highbrow as well as the lowbrow."
Mr Benn says he finds it "interesting" that people use phrases such as middle class in a derogatory manner when it comes to festivals.
"I find it extraordinary really, and I say that as a lefty," he says.
"There are people still hanging onto the concept that a festival that involves music has to be the same as Reading and Leeds, the same as Glastonbury or something of that sort, and quite frankly and quite obviously it doesn't have to.
"Let's not beat about the bush - I was deliberately aiming at an audience of people that weren't automatic festival goers, that weren't people that would be on a website looking for the Reading ticket, the Leeds ticket, the Glastonbury ticket.
"I was very clear about that, really clear about that, and I think I've got that. And if they happen to be middle class well, so be it. That's all well and good. It's a lovely audience."
While it is easy to poke fun at such events, they are not easy to get right, says Dan Fahey, editor of Virtualfestivals.com, who points to the Hydro Connect festival - held in the grounds of a Scottish castle and offering oysters and champagne bars - but which folded after two years.
"There are not many of them, but the ones that do it well are here to stay," he says.
"They are becoming an alternative not just for middle class people but as family getaways. They're giving more choice for the first generation of festival goers who now want to take their children to festivals. In the past you might have gone to Butlins, now you can go somewhere like Latitude.
"Some people do object to them, who think festivals should just be about getting muddy and getting drunk. But that's partly an age thing and partly a snobbery thing."
Related Internet Links
The BBC is not responsible for the content of external sites.