Second firm withdraws drugs from Greece over cuts
By Malcolm Brabant
BBC News, Athens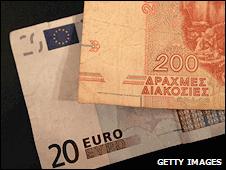 Another Danish pharmaceutical company is withdrawing products from Greece in protest at the government's decision to cut the prices of medicines by 25%.
The Leo Pharma company says it is suspending sales of two popular drugs because the price reductions will cause job losses across Europe.
The Greek government is struggling with a debt crisis.
It has condemned as unfair the action of Leo Pharma, and another Danish company, Novo Nordisk.
The decision by Leo Pharma to suspend distribution of an anti blood-clotting agent and a remedy for psoriasis takes Greece one step closer towards an all-out boycott by medical suppliers.
Kristian Hart Hansen, a senior director of the company, said the 25% price reduction would encourage similar moves in other countries with large debt problems such as Ireland and Italy.
He warned that unless the company took action, there would job losses across Europe, including Denmark where the company is based.
Earlier this week another Danish company, Novo Nordisk, withdrew sales of its state-of-the-art insulin product from Greece for the same reason.
Greek government officials believe the Danish companies are blackmailing Athens because they monopolise the market with certain key drugs.
Stefanos Combinos, the director general of the economy ministry, told the BBC that Greece was one of the three most expensive countries in Europe for medicines.
He said pharmaceutical companies had enjoyed great profits out of Greece over the decades and had an obligation to accept price reductions.
Mr Combinos said Greece had been under pressure from the IMF to make severe cuts and he anticipated that a compromise on a price reduction would be reached soon.
The Greek government has promised to repay 5.6bn euros that it owes to medical companies for hospital equipment and drugs.
But the Greek Association of Science and Health Providers has warned that there is little chance of an agreement and that the country's debt-plagued state hospitals face a supply embargo.
A spokesman for Novo Nordisk, which is owed 24.4m euros by Greece, said that the debt issue was unrelated to the decision not to lower prices.
That decision, he said, was entirely a result of the new price decree.
Related Internet Links
The BBC is not responsible for the content of external sites.