Germany drags Eurovision into the 21st Century
By Mark Savage
BBC News entertainment reporter, in Oslo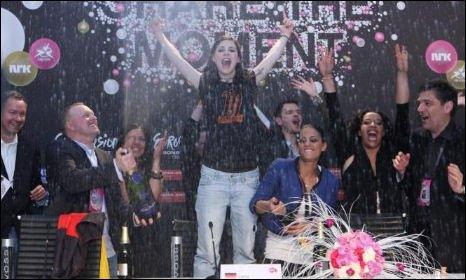 With her runaway victory at the Eurovision Song Contest, German teenager Lena has ushered in a new era for the annual music jamboree.
Not only has she signalled an end to a politically-motivated, 13-year losing streak for the "big four" countries who help fund the competition, but her winning song, Satellite, has reclaimed the contest's musical credibility.
With echoes of Lily Allen and Paloma Faith, it is the first contemporary pop hit Eurovision has produced in decades.
And Lena was not alone in embracing the charts, with several of the top songs all displaying a welcome maturity.
Turkey's entrants, maNga, are a nu metal band who picked up an MTV Award last year; while Belgian singer-songwriter Tom Dice moulded his song on the hit singles of David Gray and James Morrison.
2010's competition got off to a rousing start, as Azerbaijan's Safura took to the stage in a dress that literally lit up like a Christmas tree.
Her song, Drip Drop, was widely tipped to win but her look (lion-maned temptress) and song choice (over-wrought power ballad) was replicated too often to stand out.
Indeed, there were so many seductive women with manes of hair billowing into the wind, that you began to think the audience consisted entirely of wind machines.
One plucky soul was determined to prove otherwise, however, and ran onto the stage in a jester's hat during Spain's performance - the first Eurovision stage invasion since 1964.
Daniel Diges got to perform his song again but, to be honest, it was better the first time.
Romania, on the other hand, made actual sparks fly when male-female duo Paula Seling and Ovi shot flames out of their sleeves; while Belarusian group 3+2 marked the climax of their song by sprouting butterfly wings.
Gimmicks aside, it was a clutch of uptempo numbers that received the best reaction inside Oslo's Telenor Arena.
Among them were Greece's tub-thumping machismo-fest OPA! and France's rambunctious Allez Olla Ole.
If your bottom didn't wiggle to that one, then your bottom was malfunctioning.
But amidst all the hotpants, fireworks and questionable haircuts (I'm looking at you, Serbia) it was a lone 19-year-old pop singer who made the biggest impression.
Lena had no complicated choreography, no inexplicable backing dancers and she wore a simple black dress - the sort of thing you could pick up tomorrow in any high street store.
Her refreshingly direct performance reflected a vivacious, playful personality.
Following her victory, she ran into the press centre, showering photographers with champagne and chanting "Ich liebe Deutschland".
She joked that she had been in a relationship with last year's winner, Alexander Rybak "since three years and four months" and answered one question simply by blowing kisses at the assembled journalists.
"I think it's unreal! I'm very happy," she exclaimed. "I hope everyone's going to make it to the party tonight!"
At the other end of the scale, UK entrant Josh Dubovie will be drowning his sorrows after taking last place, with a measly 10 points.
His fatal mistake was to cling stoically to decades-old Eurovision cliche, in a year when the contest finally dragged itself into the 21st Century.
That Sounds Good To Me was written by Pete Waterman and Mike Stock - bankable hitmakers in their heyday, but that heyday was 20 years ago, and their song sounded like it had been pulled off a shelf marked "Jason Donovan rejects (1988)".
By contrast, Julia Frost, who co-wrote Lena's song, works for RedZone entertainment - the US company responsible for Rihanna's Umbrella and Britney Spears' Me Against The Music.
Her writing partner, John Gordon, told the BBC that Satellite was composed three years ago and "wasn't even written for Eurovision".
"We were just so ahead of our time and finally the rest of the world caught up with us!" Frost joked.
Related Internet Links
The BBC is not responsible for the content of external sites.