Tories say NHS cuts 'are not being made quickly enough'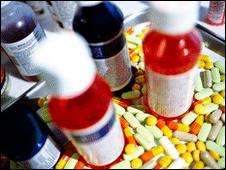 The Scottish Conservatives have accused health boards of failing to make cuts quickly enough.
The party said it welcomed the fact that NHS boards had already identified £250m of possible cuts.
But they said cuts of £45m, including saving £20m from prescriptions, could have been made in previous years.
The Scottish government said all health boards had been asked to make 2% "efficiency savings" which would be reinvested in frontline services.
Murdo Fraser, Tory MSP and health spokesman, said: "It is positive that health boards have already identified some of the efficiency savings they can make.
"Our analysis shows that these savings are a quarter of a billion pounds, of which £45m could have been made in previous years."
Mr Fraser said six of Scotland's 14 health boards had identified savings to their prescribing budgets, totalling more than £20m.
"These savings will mainly be found by moving to generic drugs from brand-name drugs," he said.
"It is essential that other health boards make clear how much they could save from making the same simple changes.
"They must also explain why this has not been done before, because it begs the question: How much money has been wasted in recent years?"
The Tories oppose the SNP administration's plan to abolish prescription charges next year, and have argued for the money to be spent on increasing the number of health visitors.
A Scottish government spokesman said: "As part of the Efficient Government programme, all health boards have been asked to make 2% efficiency savings. These savings will be reinvested in frontline services.
"The Scottish government are committed to ensuring that a quality service for patients must be at the centre of these plans.
"For example, we are currently considering proposals for the introduction of generic, rather than branded, medicines into the NHS.
"A consultation on these proposals will be held over the summer."
Related Internet Links
The BBC is not responsible for the content of external sites.