Cardiff's role in Captain Scott's trip to South Pole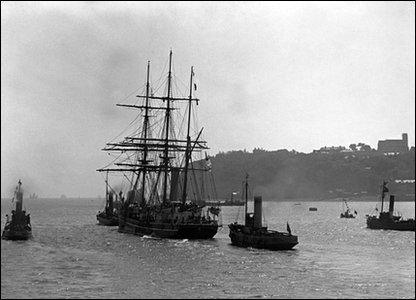 Captain Robert Scott's legenday trip to the South Pole which claimed his life and that of four more explorers left from Cardiff 100 years ago this June.
His ship, the Terra Nova, sailed from the city's docks laden with Welsh coal, fuel, and supplies.
City business leaders got behind Scott and even helped him secure government backing for the expedition.
Now the famous masthead is at the centre of a Cardiff exhibition about the ill-fated trip.
Scott's Terra Nova, which he had bought from a Liverpool ship owner, was cheered on by thousands when it set sail from the Welsh capital early on the afternoon of 15 June, 1910.
Three years later, crowds of around 60,000 joined Scott's widow Lady Kathleen and young son Peter to welcome her back.
Wales and particularly Cardiff played a huge role in the whole trip, explained Tom Sharpe, curator of the exhibition at National Museum Cardiff.
"The ship went laden with with 100 tonnes of coal, 300 tonnes of fuel made from coal dust mixed with bitumen, as well as pots and plans from the Llanelli tin works.
"In fact, she was so full, she started leaking and letting in water.
"Cardiff contributed far more than any other city in the UK," he said.
Amongs the Cardiff-based sponsors who helped the expedition were ship owners Daniel Radcliffe and William Tatem, and James Howell of the Cardiff department store Howells who provided a Welsh flag which flew from the Terra Nova on her long journey south.
The editor of the Western Mail newspaper William Davies was key to rallying public support.
He also persuaded the Chancellor David Lloyd George to provide a government grant of £20.000 for the expedition.
Poignantly, the exhibition includes a handful of rocks, part of a 35lb load of geological specimens found on a sledge with the bodies of Scott and two of his polar companions.
Exhausted, cold and hungry, they died just 11 miles from a supply depot in March 1912, having made it to the South Pole in January of that year only to find Norwegian explorer Roald Amundsen had beaten them to it.
Two other members of the polar party, Welshman Edgar Evans from Rhossili on Gower, and Captain Lawrence "Titus" Oates - he of the renowned phrase "I am going outside and I may be some time" - had earlier lost their lives.
Tom Sharpe said: "Amundsen was lucky. He had a route that took him through the ice. He was lucky in the weather as well. And Scott was unlucky."
The exhibition also explores other Welsh links with Antarctica - a geologist from St Fagans, a stowaway from Newport and the Antarctic work of a zoologist from St Brides Major who later became director of the National Museum.
The display will close on 14 June, marking the date the Terra Nova returned to Bute Dock at the close of the expedition 97 years ago.
It will then be shown at the National Waterfront Museum, Swansea from 14 July until 10 October 2010.
Related Internet Links
The BBC is not responsible for the content of external sites.